Healthy at Home
A community paramedicine program helps reduce hospital readmissions with in-home care.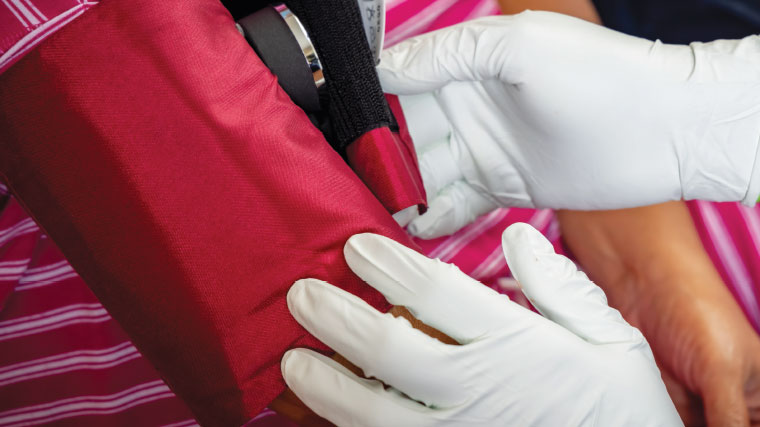 The past few years have been difficult for Michelle L. of Dayton. With high blood pressure, congestive heart failure, and diabetes, she frequently needed ambulance and emergency services.
"I would go to the hospital a lot," said Michelle. "Many times, I would come home and not understand a lot of things about my medications and stuff like that."
To combat this problem, Premier Health and the City of Dayton Fire Department joined forces to identify patients with limited access to health care services in need of in-home care. Since winter 2019, the community paramedicine program has provided more than 70 eligible residents with free access to primary care physicians; prenatal care; senior care services; medications; and basic needs, such as food and safety, in their homes.
"This collaboration between Premier Health and the Dayton Fire Department is aimed at positively affecting the health and wellness of patients and is helping to reduce readmissions," said Candy Skidmore, vice president of emergency and trauma services at Premier Health. "Patients have benefited tremendously from the support and resources they receive from the program outside the hospital setting."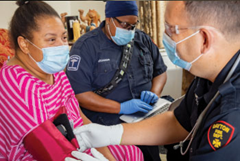 Enrolled patients are visited by a City of Dayton Fire Department emergency medical technician (EMT), paramedic, and social worker. This team provides health assessments, safety checks, COVID-19 vaccinations, and education about health condition management and medical care resources.
"We help patients who don't understand how to navigate the resources that are out there," said Kendra Harris, a paramedic for the City of Dayton Fire Department. "For patients like Michelle, our goal is to help educate them about their diagnoses in the comfort of their own home."
The community paramedicine program provides
the additional time and attention that some patients may require, addressing chronic conditions and potentially reducing future hospitalizations and health emergencies.
"Being on the frontlines, we see the positive impact this program is making each day," said Nate Pulliam, an EMT for the City of Dayton Fire Department.
"Many of our patients feel good about participating in the program because they know they have an entire team in their corner."
Since the program began, more than 225 in-home visits have been made and 37 patients have graduated or completed the program.
"Our team was briefly reassigned during the pandemic," said Capt. Greg Patterson with the City of Dayton Fire Department. "Once the paramedicine program resumed, we received dozens of emails each day from people interested in participating."
Premier Health will fund the program through 2022, thanks in part to support from the Good Samaritan Foundation-Dayton.
"This program has taught me a lot of helpful tools," said Michelle. "It is so beneficial because everyone involved wants to break down the information and get you connected to the resources that are available to help."