Support for Families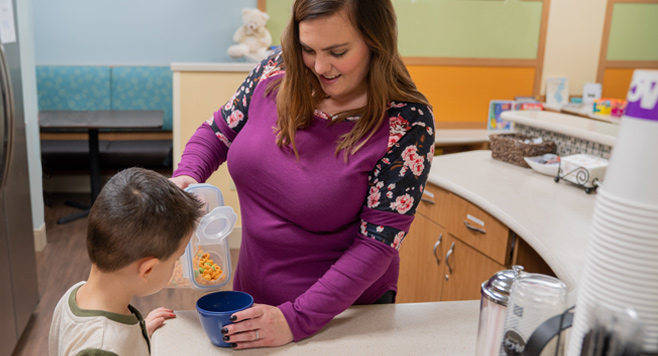 When your newborn is clinging to life in an intensive care unit, nothing else seems to matter, least of all the laundry, some couch time and a favorite television show, or even food and sleep. But those things do matter, and that's why Premier Health and the Miami Valley Hospital Foundation, in partnership with the Ronald McDonald House, opened the Ronald McDonald Family Room in Emmett's Place in 2017.
Located at Miami Valley Hospital (MVH) on the first floor of the Berry Women's Center, Emmett's Place offers three sleeping rooms, complimentary food and beverages, laundry facilities, Internet, and Abby's Nook, a children's corner filled with books and games. All of it is free of charge and just steps from the Neonatal Intensive Care Unit (NICU).
"Our families come from all over, and even for those who live nearby, we know it's hard for them to leave their child's side to go home for some rest and a refreshing shower," said Jenny Lewis, president of the Miami Valley Hospital Foundation. "The family room provides a home environment with a place for the family to sit and share a meal, play a game or just take a breath and relax."
Jenny said it's important that parents remember to take care of themselves during such difficult times, not just for their own health and well-being, but for their entire family's.
"It's like the flight attendants who remind us to put our oxygen masks on first in an emergency and then tend to our children," she said. "The family room gives parents the 'oxygen' they need, a chance to rest and recover so they can be fully present for their newborn and family."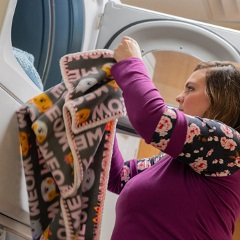 Families shared their appreciation in letters that were displayed at a celebration Oct. 1 marking Emmett's Place's one-year anniversary.
"I cannot explain how full my heart is concerning the blessings this little place has brought to our little family."
"There are no words to describe how amazing this place is! Just knowing that someone is here for you during such difficult times is priceless! We will never be able to thank you enough for all that you have done for us!"
"We could not have made it through this time in our lives if it wasn't for you all and your support and love for us and our baby boy Jeremiah."
Emmett's Place also serves high-risk pregnant mothers and their immediate family members. It was made possible by the generosity of the Sorensen family, who provided the lead gift in memory of their son Emmett. The Miami Valley Hospital Foundation continues to raise support for the ongoing operations of this program, which is entirely funded by donor gifts.