Follow-Up Care Comes Home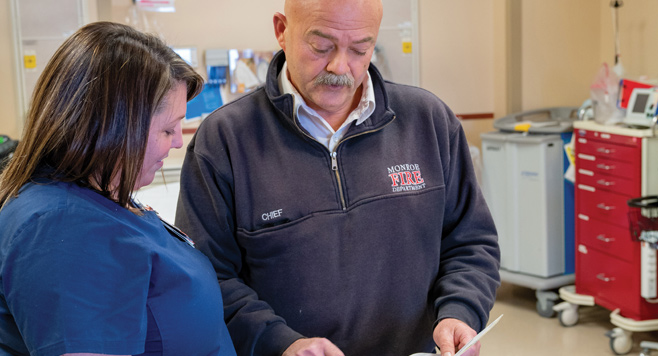 When it comes to keeping our communities healthy, Atrium Medical Center, Atrium Medical Center Foundation, and the City of Monroe's Fire Department all are on the same page. Atrium Medical Center has partnered with Monroe's Fire Department on a pilot program to reduce hospital readmissions, expanding the city's highly successful paramedicine program that has been in place since 2015.
Atrium Medical Center Foundation provided a $37,000 grant to Monroe and bought Bluetooth-enabled equipment to support the effort. The technology allows local paramedics to securely receive patient medical records. In the future, it also will allow participating physicians to review past and present patient data.
When patients who meet the target criteria return home after a hospital stay at Atrium Medical Center, a Monroe paramedic will follow up with a home visit to help improve their health outcomes. Monroe Fire Chief John Centers is excited for what this will mean for the senior population and those without resources.
"Our fire department shares the same goals with Atrium Medical Center to care for the people in this community," said Centers. "Our short-term interventional program provides needed follow-up with our seniors, as well as patients who have no readily available resources, such as friends or family, to help them when they return home from the hospital. Many people don't know where to find assistance."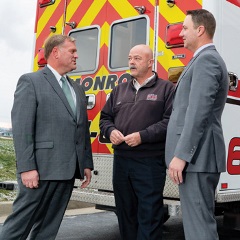 Patients eligible for a paramedic home visit include those who are 65 and older, have given permission to be contacted by a paramedic, and have conditions including congestive heart failure, chronic obstructive pulmonary disease, pneumonia, hip replacement, knee replacement, and more. Exceptions to the criteria may be made for patients who have been treated and identified by Atrium Medical Center as having a need for the paramedic visit.
Michael Uhl, president of Atrium Medical Center, is enthusiastic about the partnership with the City of Monroe's fire and EMS department. "The goal is to prevent patients from being readmitted to the hospital," said Uhl. "This will keep them healthier, promote a better recovery, and keep health care costs down."
"Our program has been very successful already, and this partnership will greatly expand our reach," said Centers.
"This program supports our mission to improve the health of the communities we serve. We are always working together with community partners to address local health concerns," said Uhl.