Safe Schools, Successful Futures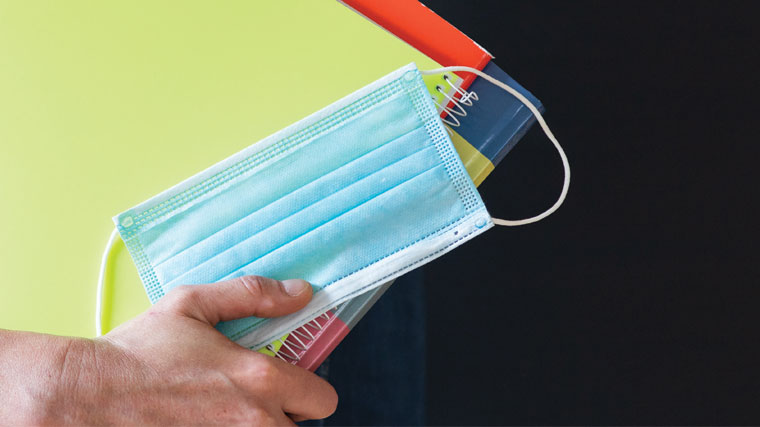 As COVID-19 forced schools to shut their doors in March and the number of coronavirus cases continued to climb, many were left wondering if students, faculty, and staff could go back to school in the fall. Community forums hosted by Premier Health provided education on how to safely return to the classroom amidst a pandemic.
Joseph Allen, MD, FAAFP, regional medical director at Premier Physician Network, held more than one dozen health forums at schools across the Miami Valley. "We didn't have any outside funding for these presentations," Dr. Allen said. "With the help and support of Premier Health, my office, and colleagues, we were able to provide education and resources to local educators."
Dr. Allen said the presentations were held in an open-discussion format and consisted of common COVID topics, including mask wearing, COVID-19 testing, and addressing some of the common misconceptions surrounding the virus. "The information had to be meaningful to a group of people who were going to be dealing with this as 'boots on the ground,'" Dr. Allen explained.
Premier Health partners with nearly 40 of our region's schools, including Wright State University and the University of Dayton, providing sports medicine services, education, and job shadowing opportunities, plus wellness initiatives for faculty and staff through Fidelity Health Care. Atrium Medical Center has joined the Chamber of Commerce that serves Middletown, Monroe, and Trenton to participate in a workforce development program called Future Ready Workforce Initiative that targets K-12 students and helps prepare them for life after graduation. For the past seven years, this program has offered local students guidance on the essential skills needed to be successful in the workforce, as well as understanding the needs of area businesses.
"Through this initiative, we want to continue to build our pipeline with those living in our community," said Jeanna Severt, director of human resources at Atrium. "We feel like investing in our youth is the best population to build that relationship."
COVID-19 did not hinder the hospital's ability to connect with students during Health Care Month. Throughout November, Atrium leaders showcased hospital career paths for students who plan on graduating high school and those interested in pursuing a four-year degree. "There really is a career path for all students if they're at all interested in health care – even in areas where there are nonclinical disciplines," Severt said.
Rick Pearce, president and CEO of the Chamber of Commerce that serves Middletown, Monroe, and Trenton, said this program is vital in keeping students competitive when it's time to join the workforce. Atrium's educational partnership with the chamber in 2020 reached more than 100 students through nine virtual seminars.
"We are not the experts on how to teach it," Pearce said. "If schools can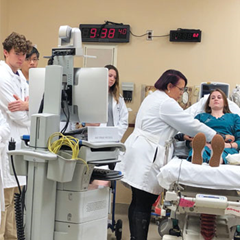 build the methods from this program into their curriculum that teaches students grit, perseverance, and time management, it will help set them up for success."
Atrium Medical Center participates in a workforce development program that provides students with essential skills needed for future success. (The class event pictured was held prior to COVID-19.)