Working Together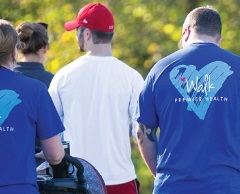 Partnering with organizations that share our mission of building healthier communities is one of the hallmarks of Premier Health.
At Miami Valley Hospital; Good Samaritan Hospital (closed in 2018); Atrium Medical Center; and Upper Valley Medical Center, and more than 100 other sites of service, we combine unique community partnerships to improve the health and well-being of citizens of all ages across Southwest Ohio.
We invite you to take a look at how we've empowered individuals to save a life; brought health care to residents in remote locations; comforted babies who need it most; supported those who are struggling in our communities; and provided young mothers-to-be with a healthier way to welcome their new babies.
These are just a few examples of Premier Health at work in your community. We are dedicated to continuing these efforts and making a positive difference in the lives of those we serve.
5 Minutes Can Save a Life
In five minutes, you can learn how to save a life at the Hands-Only CPR Training Kiosk at Dayton International Airport.
Health Care Goes Mobile
The Premier Community Health Mobile Clinic, made possible by a grant from the Atrium Medical Center Foundation and the Maxon Foundation, brings much-needed health care services to residents in remote communities, as well as the underserved.
Providing Comfort
Through the Infant Cuddler Program at Miami Valley Hospital, volunteers help provide the additional support that newborns need to get through Neonatal Abstinence Syndrome.
Connecting with the Community
Upper Valley Medical Center's community benefit grants continue the hospital's support for Miami County health-related organizations, including programs designed to make a difference in the local battle against the opioid epidemic.
New Moms Prepare Together with Centering
The Centering Pregnancy® program brings together moms-to-be for both physical and social support, providing prenatal care, education and friendship.
Vital Statistics
View the 2016 vital statistics infographic to learn more about the support and services Premier Health provides to the community.