Health Care in a Barber Chair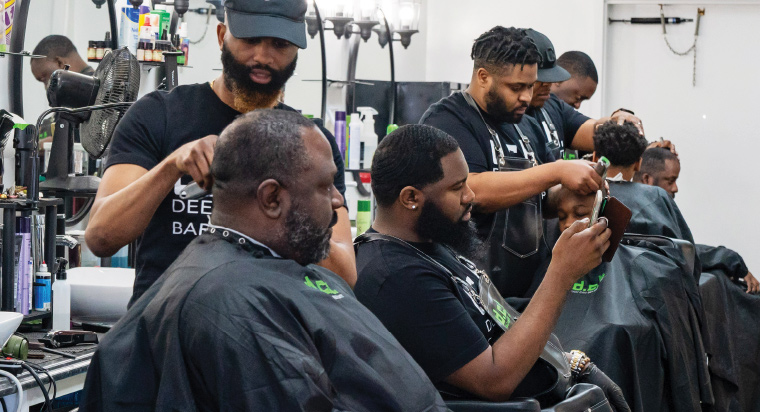 At the Serenity Salon in Trotwood, customers walk in "looking horrible and come out looking like a superstar," as one customer posted on the barbershop, hair, and nail salon's Facebook page.
They also can walk out feeling smarter about their health, armed with information and encouragement to look after their health as much as they look after their hair, said barber Ray Lindsey. Lindsey's barbershop is one of three in Montgomery County partnering with Premier Health to increase awareness of chronic health conditions and promote healthy lifestyle choices within the African-American community.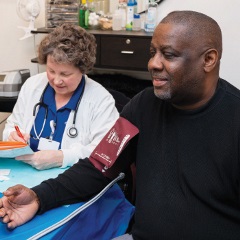 "It's important people know what's going on with their health, especially in the African-American community, because they'll perish if they don't," said Lindsey.
"Most black men are scared to know, and I tell them there's nothing to be scared of. I see my role as helping them know it's better to know so they can take action."
Premier Health's Barbershop Health Program started in April of this year with three barbershops in Montgomery County: Serenity Salon and Deeez Cuttz in Trotwood, and Man Up Barber Shop in Huber Heights.
On select Saturdays, Premier Health provides free, voluntary, and convenient health screenings at the barbershops, taking blood pressure and measuring customers' height, weight, and blood sugar levels, a good indicator of one's risk for diabetes. On occasion, larger health fairs are held.
"The program has provided 200 health screenings since this spring," said Yonathan Kebede, vice president of operations at Miami Valley Hospital. "This fall, we expanded our partnership with more barbershops and hair/nail salons to reach more people." As part of Premier Health's commitment to keeping communities healthy and bringing care to where people gather, the barbershop program will continue to grow in 2020, Kebede said.
The program includes four weeks of training to teach barbers to identify potential health concerns in their clients, educate them about healthy choices, and encourage them to seek health care. Premier Health also plans to train and certify the barbers in CPR and offer programming to customers on managing weight loss, cholesterol, blood pressure, and other health concerns.
"I've learned a lot about my own health and taken some steps to improve it," said Lindsey, whose shop serves more than 100 customers a day. "When customers confide in me and tell me their health issues, I can say, 'Me, too, and here's what I'm doing about it.'"
Lindsey said Premier Health's Barbershop Health Program has reminded him how important the local barbershop is to the community, that he can make a difference and "give back to the community I love."
"To see a customer smile because they know their barber is concerned about them beyond their business does it for me," he said. "That's what we're here for."