Partnering for Better Health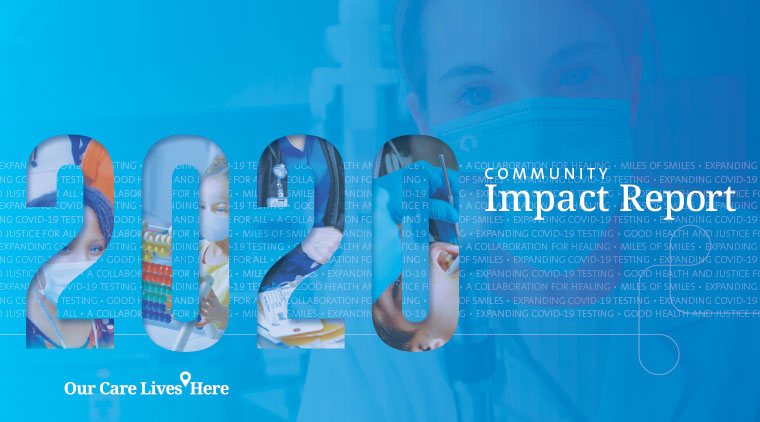 Premier Health is dedicated to improving health, impacting lives, and investing in the future of our communities through outreach and partnerships.
At Miami Valley Hospital, with additional sites at Miami Valley Hospital South and Miami Valley Hospital North, Atrium Medical Center, Upper Valley Medical Center, and more than 100 other sites of service, our patients, their families, friends and neighbors are at the center of everything we do.
From filling a dire need for COVID testing in our region; to advocating for awareness and the elimination of health disparities and social injustice; to improving recovery for COVID-19 patients; to supporting local schools and the future success of students; to providing access to vital dental services for underserved families, we are committed to partnering with local organizations who share our mission of improving the health of the communities we serve.
Dear Community Partner
Each year, this report documents our support of outreach and partnerships that enhance lives and make a measurable difference for local residents.
Expanding COVID-19 Testing
Premier Health, together with the University of Dayton, CompuNet Clinical Laboratories, Fidelity Health Care, and Premier Health Urgent Care, opened one of the first COVID-19 drive-through testing sites in Ohio in mid-March, and it has since advanced, expanded, and continued uninterrupted.
Miles of Smiles
Upper Valley Medical Center's Community Benefit fund helps support the Miami County Dental Clinic's Traveling Smiles program, a comprehensive school-based oral health program that sets up a temporary clinic in schools and provides dental care to uninsured, underinsured, and low-income families.
Good Health and Justice for All
This year, on the 20th anniversary of Premier Health's African American Wellness Walk, what started in 2000 to combat health disparities for African Americans evolved into an event that not only addressed health conditions that plague minority communities, but also highlighted racial inequities in society – and the event had its largest turnout in history.
Safe Schools, Successful Futures
Premier Health supports nearly 40 of our region's local schools, including Wright State University and the University of Dayton. In addition to providing education on how to safely return to the classroom after closures due to the pandemic, Atrium Medical Center joins the Chamber of Commerce that serves Middletown, Monroe, and Trenton to help prepare students for life after graduation.
A Collaboration for Healing
Premier Health partners with the Community Blood Center in Dayton to become the first health system in the nation to implement a COVID-19 convalescent plasma program, following the Mayo Clinic's protocols for investigational therapeutics.
Vital Statistics
Learn more about the support that Premier Health provides to the community, including dollars spent on free care and other unpaid services to low-income families; screenings, education, and other services; and dollars invested in community projects and services.