A Mission to Help Others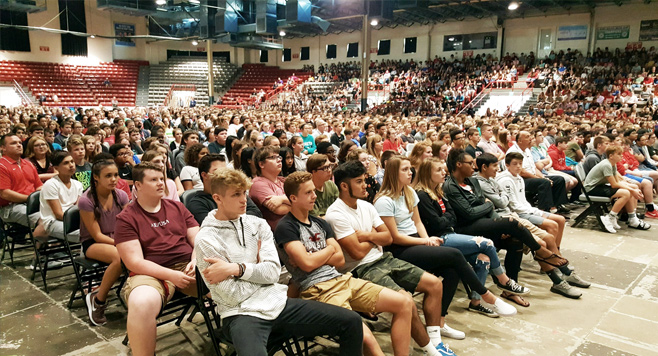 In communities across the country, the opioid epidemic has hit close to home. Miami County is no exception, with a record number of overdose deaths in 2017. As part of their response to the epidemic and efforts to provide ongoing education, Premier Health and Upper Valley Medical Center (UVMC), together with Troy City Schools, hosted special presentations in September 2018. Students from around the county and the Troy community listened to a man who knows what it's like to have it all and then lose it to the disease of addiction.
Chris Herren, a former professional basketball player, spent an emotional day at Troy's Hobart Arena talking first with more than 3,500 students in grades seven through 12, followed by an evening discussion with the community. Herren was one of the fortunate, battling his addiction before spending most of the last decade sharing his journey to recovery with audiences across the country. Today, his life is focused on family and a mission to help others.
Hospitals throughout the region are seeing patients from all walks of life struggling with substance abuse, and UVMC is no exception. "Every day at the hospital we see the horrific effects of the opioid epidemic and other addictions-related problems in our community," said Tom Parker, president of UVMC. "We are committed to the battle against this crisis through programs and special presentations such as this one that are designed to help make a difference. And, we are pleased to continue our support and partnerships with other mission-driven organizations who share that commitment."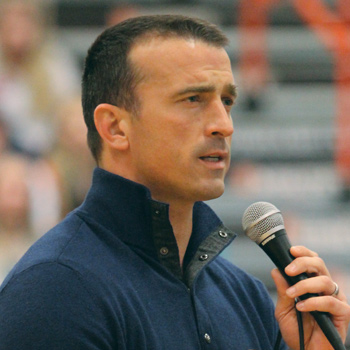 Chris Piper, superintendent of the Troy City Schools, described Herron's story of addiction and recovery as "amazing."
"This is an important message that all parents and students should hear, as drug addiction and the opioid epidemic have affected so many families across our region and state. We will continue to educate our students about the dangers of drug use and are thankful to Premier Health for their support of this special program," Piper said.
Herren, a high school basketball star from Fall River, Massachusetts, dreamed of playing for the Boston Celtics. After college ball, he was drafted by the Denver Nuggets in 1999. He was traded after his rookie season to the Celtics, but his career crumbled because of substance use. His memoir, "Basketball Junkie," was the subject of the ESPN documentary "Unguarded."
During presentations to students, Herren shared a glimpse of his life during addiction, but spent more time talking with them about taking care of themselves for their parents, siblings, and others.
"I realized that it is not just about my story, it is their story," Herren said. "The goal is to motivate them… to think about who they are, not what I became." Herren said treatment is important but, if the overall goal is making an impact, the community needs to focus on prevention. "We have to focus on education. That is where we have fallen short," he said.