A Collaboration for Healing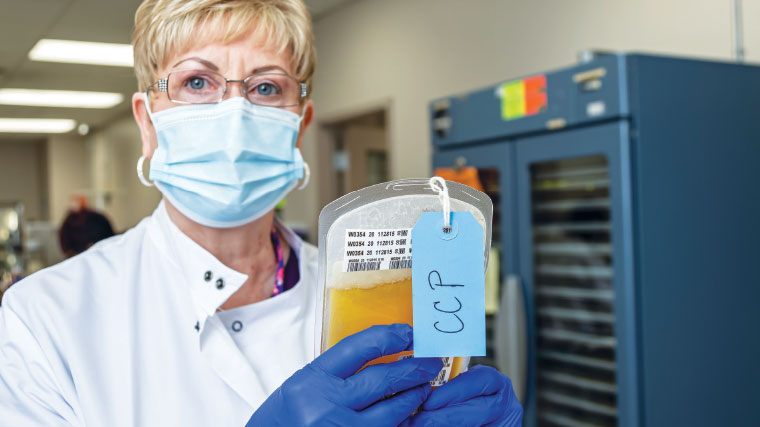 In April, Premier Health partnered with the Community Blood Center (CBC) in Dayton to become the first health system in the nation to implement a COVID-19 convalescent plasma program, following the Mayo Clinic's protocols for investigational therapeutics.
"This treatment program gives local residents the unique opportunity to donate their plasma once they have been diagnosed with COVID-19," said Roberto Colón, MD, system vice president of quality and safety at Premier Health and associate chief medical officer at Miami Valley Hospital. "The plasma from someone who has recently been infected by COVID-19 has antibodies that may be able to fight the infection."
Through this initiative, COVID-19 survivors who have documentation that they tested positive for the virus and have recovered may be able to donate plasma at CBC. They must be symptom-free for at least 14 days and have tested negative for COVID-19, or symptom-free for at least 28 days with no negative test required. The plasma is then distributed to hospitals that have patients in need.
"The really great thing about this project with the Community Blood Center is that it highlighted how collaboration allows different facilities to accomplish things they could not have done on their own," Dr. Colón said.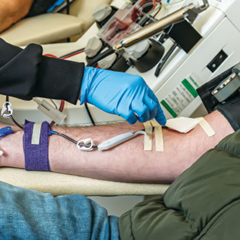 This year, CBC provided more than 2,300 plasma doses to patients in the Miami Valley and nationally. "We had people come from hours away to donate their plasma," said James Alexander, MD, medical director at the Community Blood Center. "People were very eager and excited that they were going to be able to contribute to other individuals who had been infected by this virus."
Since the pandemic response began in early spring, Premier Health has administered convalescent plasma to more than 500 patients across the health system. CBC and Premier Health's partnership resulted in plasma donations even being shipped to other states where the need was great.
"Early in the pandemic, we had an excess of convalescent plasma and that gave us the opportunity to help other areas of the United States that had large outbreaks," said Dr. Alexander. "But the recent surge in infections has resulted in our need to find new convalescent plasma donors to provide treatment for all of our local patients."
Premier Health and CompuNet Clinical Laboratories provided pre-screening services for this program, with Premier Health's four foundations covering the cost, to help build a large registry of potential donors.
"If someone was having lab work done to become a convalescent plasma donor, there was a cost associated with that," said Jenny Lewis, president of the Miami Valley Hospital Foundation. "If a person is willing to donate and potentially save a life, why should they incur that cost?"
On average, each donation is processed into three doses. Premier Health and other regional hospitals have received 2,012 doses.
If you have recovered from COVID-19, you can help current patients by donating plasma. Check your eligibility and complete a donor request form.