Providing Healthy Choices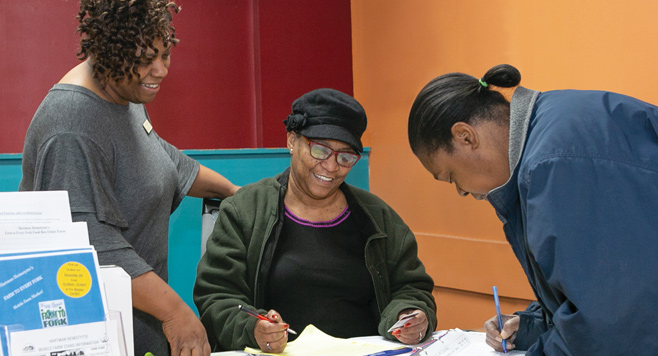 It's hard to be healthy when you're hungry, even more so when you live in a "food desert."
That's why the nonprofit Wesley Community Center on Dayton's west side renovated its food pantry in 2018 to create a Food Resource Center and why Premier Health contributed to the cause. The health system's $30,000 donation allowed Wesley to purchase a large walk-in refrigerator/freezer unit to stock much-needed fruits, vegetables, and other fresh food that the pantry previously couldn't accommodate.
"We're committed to addressing hunger in the struggling communities we serve, because the path to good health and wellness begins with good nutrition," said Premier Health Chief Nursing Officer Peggy Mark, who leads the health system's hunger initiatives. "We see food as medicine. Its healing properties are essential to preventing or controlling heart disease, obesity, diabetes, and other ailments that can impact the duration and quality of a person's life."
The Wesley center serves Northwest and West Dayton and western Montgomery County, an area beset with economic and other hardships. The United States Department of Agriculture designates the area as low-income with limited access to grocery stores, hence the "food desert" description.
Yvette Kelly-Fields, Wesley's executive director, said Wesley's pantry provided more than 110,430 meals in 2017 to more than 7,600 people, mostly single mothers with children who lived well below the poverty level. She said Premier Health's donation will help the center increase its distribution of fresh fruits and vegetables by 40 percent. It will also expand the number of food pantry users who become involved in ongoing education, employment, and case management services by 10 percent.
"Premier Health's donation allows us to offer high-quality produce, dairy, poultry, and meat to our neediest residents," Kelly-Fields said. "But that's not all — it helps us offer resources and guidance to more people who sorely need it."
Besides the walk-in refrigerator/freezer, Wesley's Food Resource Center features additional space devoted to groceries, open shelving for people to select the food items that meet their needs, and smaller freezer units. It also offers nutritional information, recipes, and information regarding diabetes, heart disease, and obesity.
"Education is key," said Kelly-Fields. "Ultimately, we want to see people making healthier food choices and connecting with community services that will help them improve their lives and become self-sufficient."
Premier Health's donation comes from the health system's Community Benefits program and is consistent with its mission to improve the health and well-being of the communities it serves. The contribution follows an investment of approximately $13 million since 2003 to revitalize neighborhoods in Northwest Dayton through the Phoenix Project. In addition, it coincides with the health system's recent commitment of up to $10 million toward continued revitalization efforts through the Phoenix Next project.