Filling the Gaps
Premier Health is committed to alleviating socioeconomic disparities in our region.
In a recent report from the Food Research and Action Center, Dayton ranked in the bottom quartile for food hardship among families with children. With a mission to improve the health of the communities we serve, Premier Health has partnered with Homefull and Gem City Market to provide both groceries and health care services where they're needed most.
Homefull Mobile Grocery
Homefull is a nonprofit agency that works to end homelessness by providing housing, advocacy, and education. Its newest venture is a first-of-its-kind mobile grocery. This customized 42-foot truck visits between eight and 12 low-income and senior housing sites in Montgomery County each week.
"We continue to see the number of our customers increase," said Tina Patterson, CEO of Homefull. "The Mobile Grocery is strategically placed in centralized areas where the need is great."
Homefull Mobile Grocery provides items at a competitive price that most traditional grocery stores would offer, such as meats, fresh produce, canned goods, paper products, and cleaning supplies. It is projected that 6,000 to 7,000 people will utilize the Mobile Grocery in 2021.
"The Mobile Grocery could not have happened without the support of Premier Health," said Patterson. "Our organizations have similar missions of meeting people where they are. The Mobile Grocery accomplishes just that."
Premier Community Health provides workplace and community health services, and their Mobile Clinic often travels to many of the Mobile Grocery locations. The clinic provides free health assessments, educational resources, and biometric screenings which are paid for by Premier Health community benefits funding (based on the Community Health Needs Assessment) and Premier Health's hospital foundations.
"Food deserts have a lot of connections with social determinants of health," said Paula Thompson, president and CEO of Fidelity Health Care, the parent organization of Premier Community Health. "Our relationship with Homefull is more than just a financial investment. It's an opportunity to collaborate with an organization that has already embedded itself into the highest areas of need."
Gem City Market
To serve, engage, and empower Dayton neighborhoods by providing affordable, high-quality food in a clean and welcoming environment — that's the mission of Co-op Dayton's Gem City Market.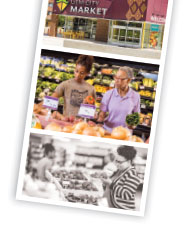 Since opening in May 2021, the worker- and member-owned full-service grocery store offers fresh produce and deli, as well as specialty local and organic products at an affordable cost.
Premier Health played a major role in establishing the grocery store in an area with little access to healthful food. In addition to a five-year, $400,000 commitment made in 2017, the health system offered a membership match program for eligible neighbors of the market that gave $50 vouchers to 800 families. This initiative covered half the cost of a $100 lifetime membership to the market.
With funding from Premier Health's hospital foundations, "Premier Community Health provides health screenings, educational services, and a variety of programs twice a month at Gem City Market," said Roopsi Narayan, director of Premier Community Health. "The mission is to provide services that will continue to build stronger communities."