Good Health and JUSTICE for ALL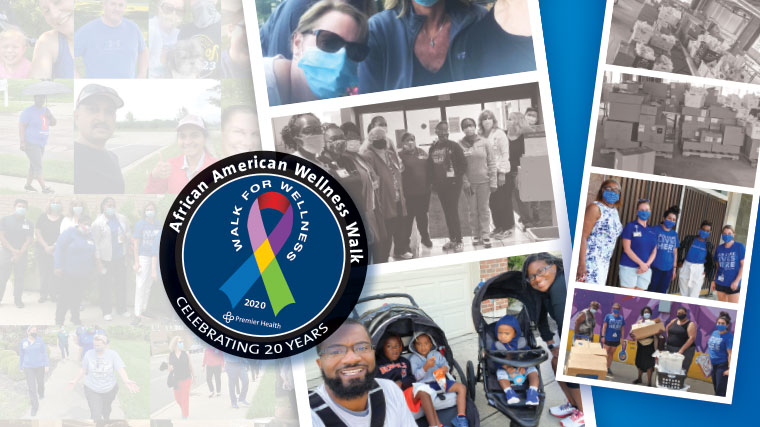 One Walk, All Races. That was the theme of the 2020 Premier Health African American Wellness Walk.

This year, on the walk's 20th anniversary, what started in 2000 to combat heart health disparities for African Americans has since evolved not only to address the alarming underlying health conditions that plague minority communities, but also to highlight racial inequities in society — and the event had its largest turnout in history.
"First, I'd like to thank everyone who participated this year," said Eloise Broner, chief of shared services for Premier Health and honorary co-chair of the walk with local artist and teacher Bing Davis. Broner recalls how the planning team considered not having this year's walk at all due to COVID-19. "But they all came together, reimagined the whole walk, and it took wings and flew," she said.
The walk was reconfigured to be a virtual event. Participants were given 12 days to walk three miles, the usual length of the walk. Since it was virtual, they also could invite friends and family to join them, and total participation far exceeded expectations: 2,430 individuals across 41 states and five countries. 700 of the walkers also completed the Super Social Justice Challenge, walking – or running – an additional 8.46 miles in honor of George Floyd.
"If you would have told me before the walk that participation would reach not only across the country but across the world, I wouldn't have believed it," said Adrian Taylor, director of diversity for Premier Health. "People in this community and far beyond stood up and showed us that this was not just a walk, but a significant recognition of health disparities and social injustice. I hope they know that Premier Health is here, we see it, and we will not stand for it."
"This year, because of what was going on in our nation, the walk was even more important," said Broner. "And COVID shined a spotlight on what we already knew – health disparities and social justice are tied together, integral to each other."
Donations from walkers totaled more than $15,000, with an additional $15,000 in monetary and in-kind donations from sponsors – the most that the event has ever raised. These funds were put directly back into the community through the creation of COVID kits – packages assembled to help fight the spread of the coronavirus. The kits included soap, hand sanitizer, masks, shampoo, a laundry kit, and a thermometer, and were delivered to two local churches, the East Dayton Community Health Center, the Wesley Center, and to barbershops and salons that participate in Premier Health's barbershop health partnership (a program to increase awareness of chronic health conditions within the African American community).
"The COVID kits were part of a collective effort to provide empathy, generosity, and dignity to our community in a tangible way," said Angy El-Khatib, health and wellness coordinator for Premier Health. "Coming together amidst the COVID-19 pandemic clearly demonstrated that the health of one is the health of all."