Miles of Smiles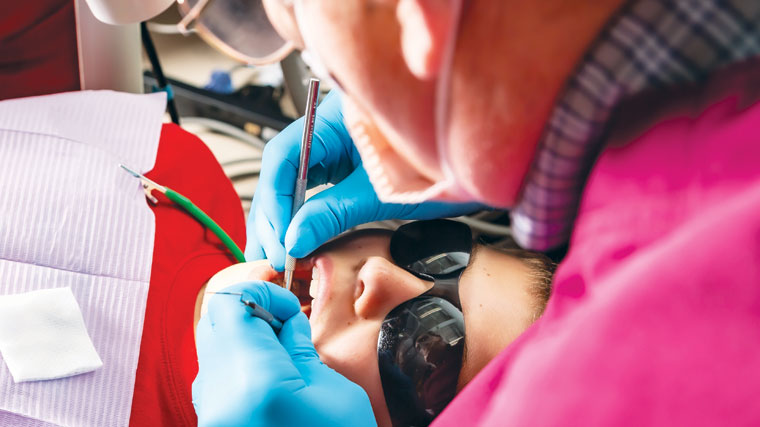 The Miami County Dental Clinic has even more to smile about, thanks to the Upper Valley Medical Center Community Benefit Fund.
The clinic's services include a Traveling Smiles team that takes dental services to schools in nine districts across the county, and it now has a larger vehicle to transport equipment and materials needed for a school visit. The van, colorfully covered with a wrap highlighting the program, was purchased by the nonprofit dental clinic using a Community Benefit Fund grant that took care of all purchase, equipment, and wrap-related costs.
The Community Benefit Fund grants are awarded by the UVMC Board of Trustees in support of Miami County organizations to help improve residents' health and well-being. "We are extremely grateful for the generosity, love, and ongoing support shown to our programs by Premier Health/Upper Valley Medical Center," said Stephanie M. Silk, executive director, Miami County Dental Clinic. "We are honored to partner with a health care organization that truly believes in promoting residents' oral health and overall well-being."
The dental clinic provides routine and emergency examinations, dental cleanings, oral hygiene instruction, and other services for uninsured, underinsured, and low-income families who reside in Miami county. The clinic opened in 2008, and Traveling Smiles began in 2012.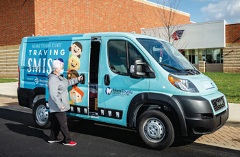 Traveling Smiles is a comprehensive school-based oral health program with a team that includes dentists, dental hygienists, dental assistants, and volunteers. The Traveling Smiles staff sets up a temporary clinic in the schools, using the same equipment, materials, and supplies found in a dentist's office.
"With the UVMC Board of Trustees providing the funding for the Traveling Smiles van, since August 2020 the program had seen 314 school-aged patients. This is a true asset to our community with the ability to utilize the Traveling Smiles van here in Miami County," said Tim Snider, UVMC chief operating officer. "Seeing the Premier Health mission of building strong, healthy communities in our support of the Miami County Dental Clinic reflects our ongoing commitment to partnering with like-minded organizations and makes us all proud."
"We serve uninsured and underinsured children who do not have a dental home. We will not refuse service to any child, regardless of insurance status or ability to pay," Silk said. As of October 2020, the clinic had more than 8,660 active patients of record. Of those, 51 percent were uninsured while 49 percent were covered by state-assisted or commercial insurances.
The van has been a hit. "It has garnered a lot of positive feedback and created buzz throughout Miami County. We have received many compliments on the fun and colorful design that the van was wrapped in," Silk said.
More information about the van and its services is available at MiamiCountyDental.org or by calling (937) 339-8656(937) 339-8656.