Community Partnerships Help Fund Care
Atrium Medical Center's community partnerships provide funding for mammograms and related breast cancer services for patients who qualify, offering support and helping to spread the word about the importance of screenings.
Since 2017, the Middletown Fire Department has held sales of pink T-shirts and sweatshirts and donated the proceeds for breast cancer patient care. "It is important to Middletown Fire Department's union members that the money raised goes back to the women in our community and the residents of Middletown," said Todd Steinbrunner of the fire department union. "We are grateful to Atrium for allowing all employees to participate in wearing the shirts and supporting breast cancer awareness."
This year, a new partner, Miami Valley Gaming (MVG) LLC, worked with the Atrium Medical Center Foundation to raise funds through a "donate your change" option at the kiosks on the gaming floor. In three months, with the support of the Miami Valley Gaming patrons, $10,000 was raised for breast cancer support efforts. MVG also had Atrium's mobile mammography coach visit its site, providing employees and patrons the opportunity to receive services, said Christine Pirot, the foundation's director of major gifts.
"What I love about community initiatives like these is the awareness they create. They are a great way to remind women to get their annual mammograms so we can detect these cancers early. Our goal is to improve community health and the more people we have getting these tests, the healthier community we will have," Pirot said.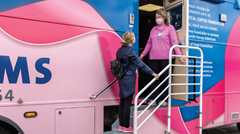 Craig Robinson, Miami Valley Gaming's president and general manager, said, "Miami Valley Gaming takes great pride in working with local communities where we operate. Our goal is to enrich and strengthen the community as a whole. When the Atrium Medical Center Foundation reached out to us with an opportunity to partner in support of breast cancer patient services, we knew this was an initiative we wanted to endorse."
"The support from these grassroots, close-to-home organizations ensures that every woman has access to breast cancer screenings and additional support, regardless of their ability to pay," said Samuel Lobar, foundation director of major gifts. Other long-time supporters continue to raise funds as well, including Phi Beta Psi sorority and Middletown Area Federation of Women's Clubs.
Mike Stautberg, foundation president, said around 100 women a year benefit from these efforts, receiving mammograms and support for other care needs. The foundation also helps fund the mobile mammography coach, which is available for booking throughout the year by emailing mobilemammography@premierhealth.com.
Atrium Medical Center's Comprehensive Women's Center program offers a one-call link to initiating care at (513) 974-5455(513) 974-5455.