Finding Better Ways: Research and Clinical Trials
A touchstone of comprehensive cancer programs is the ability to provide patients advanced options in care, which includes clinical trials Last year, we made great strides in expanding and optimizing the clinical trials program at Premier Health.
We expanded our cancer clinical trials in 2020, providing an even higher level of quality cancer care close to home. We offer a wide variety of clinical trials to our cancer patients thanks to relationships with Wright State University, Dayton Clinical Oncology Program, and Gynecologic Oncology Group (GOG) Foundation.
"We're working to expand our program so our patients can stay in their same city and access these trials that other larger cities are offering," explains Amanda Musser, MSN, RN, director of nursing, Miami Valley Hospital South. "They can stay here with providers they trust and with whom they've already built relationships."
Expanded Gynecological Trials
Part of expanding patient access to clinical trials is forming new partnerships. In 2019, Premier Health became a member of the Gynecologic Oncology Group Foundation. This group pursues industry collaborations that allow pharmaceutical companies to sponsor trials outside the National Cancer Institute framework.
In early 2020, through our GOG membership, Premier Health became the first site in the United States to offer the Phase III KEYLYNK-001 trial, which studies a new drug combination for women newly diagnosed with Stage III or IV BRCA negative ovarian cancer. The new medications are combined with standard chemotherapy to provide insight into their ability to improve outcomes.
The trial is important to women in our community who are newly diagnosed with advanced ovarian cancer because it offers an additional care option for this disease.
We also recently added clinical trials that study new treatment options for recurrent ovarian cancer as well as newly diagnosed, advanced, or recurrent endometrial cancer. A fourth gynecological trial is set to open by early 2021.
Working As One Research Program
"We've aligned our clinical trials practice to create greater consistency across our health system," Musser says. Processes, documentation, and communication are becoming more standardized. "So it's charting, how we screen patients for trials, and how we manage their care."
These improvements help provide seamless care for patients in clinical trials. They produce greater continuity for physicians who may have clinical trial patients at different Premier Health hospitals. In addition, new processes make it easier for physicians to engage with oncology research nurses regarding new clinical trial opportunities for their patients.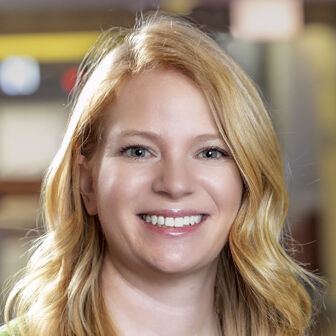 Amanda Musser, MSN, RN