Powering Up the Patient Experience
Our focus on easing the journey of cancer patients was put to the test in 2020 amidst the COVID-19 pandemic. We were ready for the challenge.
In fact, Premier Health was well-positioned to support our cancer patients during this time. Several efforts underpinned our primary goal to provide each cancer patient as positive an experience as possible.
Expanded Nurse Navigator Program
By early 2020, Premier Health offered over 30 percent more nurse navigators supporting patients in their cancer journeys. The expanded program has increased our ability to navigate more cancer types beyond breast and lung – specifically at Miami Valley Hospital, where a larger cancer patient volume has challenged our ability to support more cancer types until now.
These additional positions also have provided an opportunity to place navigators in outpatient settings – where a significant amount of treatment occurs – for increased face-to-face patient interaction.
In addition, we've been working with providers to encourage earlier referral across all our cancer centers. A review of referrals revealed patients often weren't getting connected to navigators until after diagnosis or even surgery. The goal is to connect patients with navigators before a cancer diagnosis so they have that person in their life already to help alleviate anxiety, coordinate care, and provide education. Early referral provides greater opportunity for patient support and identification of barriers that can prevent a smooth patient experience.
Ultimately, the goal is to have enough navigators so that any patient who needs one, gets one, according to Sarah Jones, MS, APRN, ACNS-BC, AOCNS, VA-BC, nurse manager, UVMC cancer center. So far, the navigator program has added more support for gastrointestinal and head and neck cancers, with hopes of expanding to gynecologic, blood, and genito-urinary cancers (prostate, bladder, kidney, testicular).
Improved Social Worker Referral Process
All Premier Health cancer centers offer social workers on site. These professionals offer important support to patients and families through support groups as well as patient and caregiver counseling. In addition, social workers help connect patients and caregivers to social services. However, knowing which patients need such resources isn't always immediately clear.
Improvements this year in our distress screening tool – provided to all cancer patients – are helping us more efficiently connect social workers with patients who have a positive screen. Our goal is to screen patients in a consistent manner, no matter what form of treatment they undergo first. This helps ensure timely referrals to social workers, enabling them to better assist in making each patient's cancer journey as smooth and successful as possible.
Compassionate COVID-19 Response
Quality cancer care necessitates a team approach. In early spring, our "all hands on deck" mentality reached new levels as we quickly responded to new work processes and increased safety protocols at our campuses in the wake of COVID-19.
In the early days of the pandemic, our compassionate cancer team worked tirelessly to have verbal conversations with patients to help ease any concerns. Nurse navigators working from home were integral to these efforts. They reached out to patients to assess any health issues or concerns around continuing their treatments.
On the facility side of care, we developed internal workflows to add extra precautions for our immunocompromised patients. We had continuing conversations around infection control practices and keeping our patients safe. Distress screening also was critically important, especially in the initial months of the pandemic, to ensure our team was able to identify opportunities to help patients who needed additional support.
Patient Care Experience Committee
A joint effort with Dayton Physicians Network, a Premier Health partner, to elevate patient care experiences resulted in the formation of the Dayton Physicians Network/Premier Health Patient Care Experience Committee last year. A key focus of the committee involves aligning patient satisfaction surveys and results to capture a unified patient care experience. The effort works in tandem with the Cancer Institute's care delivery transformation.
Broader Integrative Services Reach
In the spirit of "Our Care Lives Here," last year we began an effort to make a broader range of integrative services more accessible across all Premier Health geographic markets. To achieve this, we evaluated our offerings at each campus location to determine geographic gaps for certain integrative therapy offerings. Through this work, we're planning changes so our patients everywhere can benefit from these opportunities that help promote well-being and an overall greater patient experience.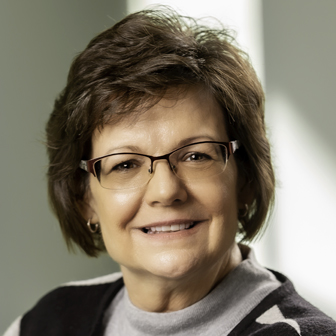 Sarah Jones, MS, APRN, ACNS-BC, AOCNS, VA-BC