Our cancer team at Premier Health wants you to have an active part in your own cancer care. We offer you many services to aid emotional, physical, and spiritual healing for you – and support for your loved ones.
Our hope is that these additional resources will make your journey more comfortable and manageable, throughout diagnosis, treatment, and beyond.
Classes, Programs, And Events
Learning more about cancer or sharing your experience with others can be positive steps to empower yourself as you move through cancer diagnosis, treatment, and beyond. Check our program and calendar listings to find a support group, event, or seminar that interests you.

Exercise Therapy

You can participate in a range of exercise programs across our Premier Health locations designed specially for people living with cancer. Classes include warm water exercise through Miami Valley Hospital South,strength and conditioning classes, Tai Chi, yoga, and a movement program set to music for people with cancer or lymphedema. Many of these activities can help improve sleep, reduce stress, and improve your overall quality of life.

Expressions Of Hope Boutiques
If you've experienced a lumpectomy or mastectomy, our knowledgeable staff at the Expressions of Hope Boutique knows how to help. We specialize in restoring your confidence and femininity with innovative breast forms and partial shapers. Most major health plans are accepted, and financial assistance is available if you qualify.

Facilities For Patients And Loved Ones
The cancer treatment journey can be challenging for patients and families. Premier Health's cancer treatment facilities offer peaceful, soothing spaces that encourage healing. Try suggestions from our cancer care team for relaxing in our cancer treatment facilities before and during treatment.

Financial Support
Our customer service representatives and financial counselors are available with counseling and support , especially if you are uninsured, underinsured, or you've had a recent financial hardship such as a job loss. Social workers are also on site to provide counseling and support about financial issues and to provide financial assistance and resources. We also can help patients apply for Medicaid. Additional services we offer include helping you create a payment plan, exploring options for financial assistance, and connecting you with local clinics that meet a variety of medical needs.

Genetic Counseling And Testing
A cancer diagnosis often raises questions about cancer types that can be inherited. With genetic testing and counseling, we can help determine if your cancer is hereditary and if there is risk of other family members being diagnosed. Results can assist your physicians in developing an ongoing care plan for all involved. Read more about genetic counseling and testing for breast cancer.

Hospice And Palliative Care
Palliative care focuses on managing pain, anxiety, and other symptoms – rather than providing a cure – so you can enjoy life more fully. You can receive palliative care throughout your cancer treatment and even when you stop receiving treatment. Our palliative care team can also help family members cope with caregiving responsibilities and provide support and resources for financial, legal, insurance, and end-of-life concerns.

Hospice care generally is reserved for the last six months of life – to improve the quality of your time with family and friends once curative treatment stops. Choosing hospice doesn't mean that you or your family is giving up hope. Instead, hospice care focuses on you as a whole person, helping you take steps to live as comfortably and as fully as possible.

In-Home Cancer Care
If the demands of your cancer are greater than you and your loved ones can manage alone, our home health service can provide additional help and resources. We can help with symptom management, emotional support, identifying community services, and more.
Integrative Therapy
Integrative therapies focus on healing your body, mind, and spirit. They work with treatments like surgery, chemotherapy, and radiation therapy, but are not used instead of these treatments. Premier Health offers several integrative therapy programsdesigned to enhance your well-being.
Nutrition Counseling
Healthy eating is vital to your recovery from cancer. Premier Health licensed clinical dietitians are specialists who will help you develop meal plans that fit your lifestyle. They'll also help you find the best solutions to common side effects of treatment like loss of appetite, taste differences, and nausea. Learn how dietitians can help you during your cancer journey.

Oncology Nurse Navigators
Cancer care can be complex and, at times, overwhelming. Oncology nurse navigators are nurses specially trained in oncology care who help you navigate through cancer treatment and beyond. Our oncology nurse navigators are knowledgeable about the best practices in cancer care and contribute to a multidisciplinary approach to fighting cancer. They can also link you to resources available to cancer patients and their families.
Oncology Rehabilitation
Cancer and its treatment can sometimes take a toll on your ability to regain normal physical function. Premier Health offers you oncology rehabilitation, including physical therapy and occupational therapy, to regain your strength, endurance, and mobility. We also provide lymphedema therapy if you develop lymphedema, a swelling caused by damage to your body's lymphatic system. The swelling most frequently affects the head, neck, limbs, breast, and trunk, and therapy can assist with lymph drainage.
Oncology Social Services

Our team of licensed social workers can connect you with counselors, financial counseling and support, legal assistance, and other resources.

Spiritual Care Services
A cancer diagnosis can test your spiritual belief system and cause stress for you and your loved ones. Premier Health spiritual care chaplains are members of the cancer health care team. Available 24/7, they're specially trained to provide support, help, and encouragement, regardless of your personal faith orientation. Chaplains routinely visit our infusion rooms to provide spiritual support to patients during treatment. Learn more about how spiritual care can benefit those with cancer.
Support Groups
Being with others who share a similar illness may provide you with comfort and encouragement. At Premier Health, we offer several support groups, including general cancer care support groups, Sharing Our Strength breast cancer support group, and Ostomy Support Group for people dealing with cancer.

Survivorship Support
Survivorship begins with your diagnosis and continues as you live through and beyond cancer. One of the hardest things after you finish treatment is not knowing what happens next. We at Premier Health believe it is important to help you on this next part of your journey. You may receive what's called a Survivorship Care Plan from your provider or one of our Oncology Nurse Navigators. This care plan is created specifically for you; it provides a record of your treatment, potential short-term and long-term effects, guidelines for follow-up and future testing, and symptoms you should report to your doctor. This care plan can be shared with other providers on your care team and your close family members.

Wig Boutique
Our Wig Boutique at Atrium Medical Center offers free wigs, hats, scarves, and turbans to anyone who has cancer. The American Cancer Society partners with us to provide free wigs, and we also accept donations from the community. Our helpful staff can assist you with selections and wig fittings. To make an appointment, call (513) 974-5669 (513) 974-5669.
Tree of Life
The Tree of Life represents a celebration of hope, courage, and life shown through photographs of survivors, caregivers, and those who treat cancer patients.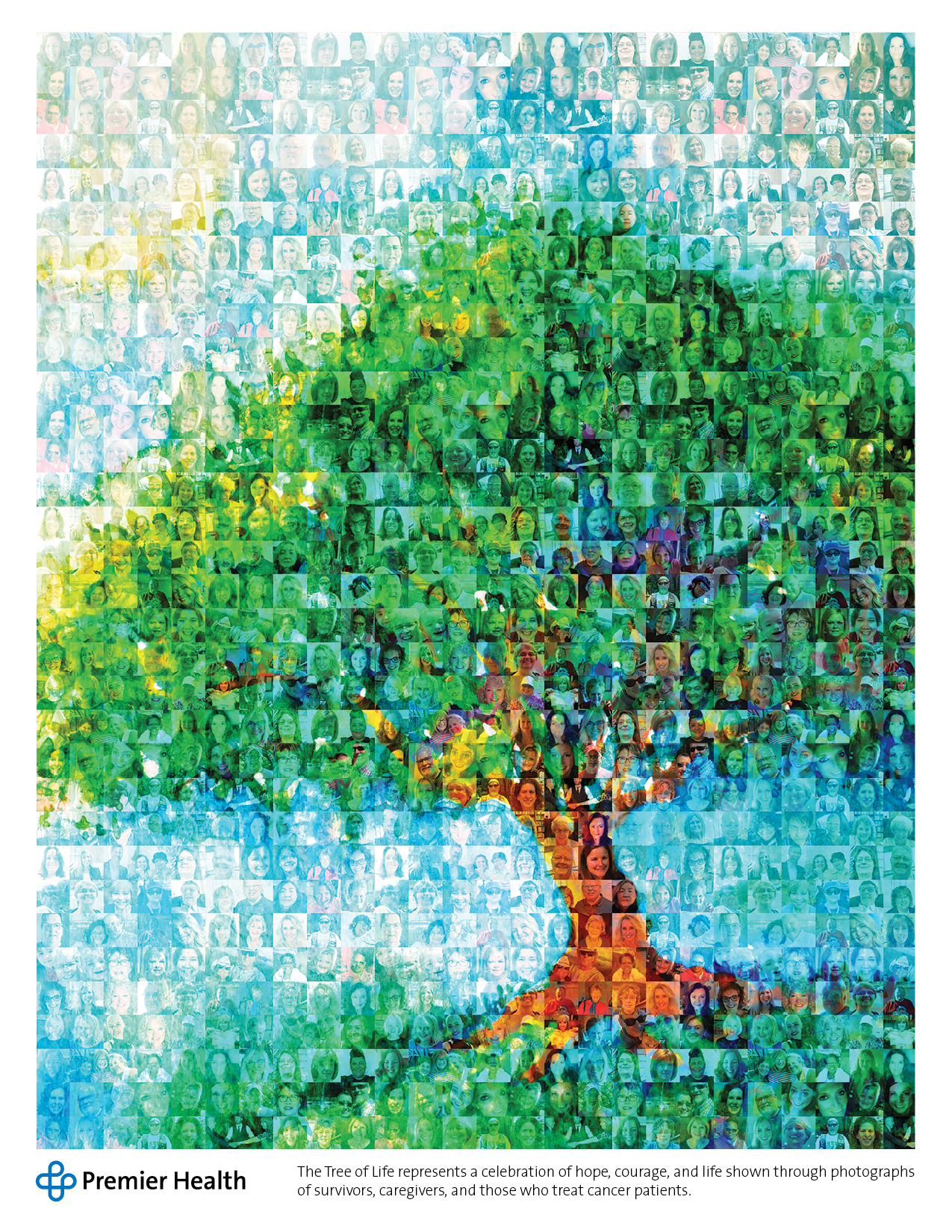 Contact Us
Our cancer team is here for you. Our cancer specialists have access to nationally recognized cancer care protocols and best practices, since Premier Health is a certified member of MD Anderson Cancer Network®, a program of MD Anderson Cancer Center. Our patients benefit from advanced local care backed by the world-renowned expertise of the nation's leading cancer center.
Call the Premier Health cancer hotline at (844) 316-HOPE(844) 316-4673 (4673), Monday through Friday, 8 a.m. to 5 p.m., to connect with a Premier Health cancer navigator.