Cancer Care That Gets Noticed: Clinical Excellence
Premier Health's growing reputation for advanced cancer care can be seen in the increasing number of Ohioans who seek our services. Clinical excellence strongly contributes to this reputation and recently was triple verified through well-respected national recognition programs. Our excellence is underscored by a commitment to comprehensively serve each patient's unique needs from diagnosis through survivorship.
National Recognition
Recent national recognitions place us in good company with other well-respected cancer programs. From nursing excellence to our dedication to improving cancer survival and quality of life, we're helping the people of Southwest Ohio access quality cancer care close to home.
Magnet Recognition
In 2019, Premier Health became the second health care system in Ohio to achieve Magnet® Recognition as a health system. This means each of our hospital locations has met or exceeded standards required by this honor, which is awarded by the American Nurses Credentialing Center (ANCC), a subsidiary of the American Nurses Association.
Magnet status is nationally recognized as the highest standard for excellence in nursing care, and only 8 percent of U.S. hospitals hold this esteemed four-year designation. Premier Health hospitals are the only Dayton-area adult hospitals to hold Magnet status. Miami Valley Hospital is the fifth-longest sustaining Magnet-designated hospital in Ohio, having first been designated in 2004.
Research has shown that Magnet-designated hospitals provide safer environments with better outcomes for patients, including fewer complications and injuries, as well as lower mortality rates. The program evaluates such areas as collaborative work environments, nurse and patient satisfaction, nurse education and research, patient outcomes that exceed national benchmarks, and more.
Commission on Cancer Accreditation
Premier Health's oncology program continues its history of accreditation by the American College of Surgeon's Commission on Cancer (CoC), most recently with Atrium Medical Center's 2019 re-accreditation. All our cancer centers are accredited and undergo a rigorous on-site survey every three years to maintain accreditation. The CoC establishes standards to ensure quality, multidisciplinary, and comprehensive cancer care delivery while addressing both survival and quality of life.
Accreditation by CoC is not mandated, explains Debbie Hatter, MSN, APRN, FNP-BC, OCN, CTTS, manager, oncology services. "It's something we pursue to make sure we're following best practices, meeting standards, and using benchmarking and educational resources that help us achieve optimal outcomes for our patients."
Our successful, multi-site oncology program continues to achieve reaccreditation thanks to a history of nursing excellence, cancer prevention, screening and outreach, clinical leadership, palliative care services, patient navigation, distress screening, survivorship care planning, quality studies, and quality improvement measures.
U.S. News & World Report
In July, Miami Valley Hospital was ranked eighth among all Ohio hospitals by U.S. News & World Report and had the best performance among all hospitals in the Dayton metropolitan area. The recognition included "high-performing" designation in 11 areas of care, including colon cancer surgery and lung cancer surgery. This honor reflects the level of excellence our compassionate team of physicians, providers, nurses, and clinical and support professionals bring to our hospital every day.
Improved Distress Screening for Greater Patient Support
Screening patients for psychosocial distress is a critical component of cancer care. It's also a requirement for hospitals seeking accreditation by the Commission on Cancer. Recent improvements in Premier Health's distress screening tool are helping our team more efficiently connect social workers with patients who have a need.
"We evaluated our inpatient and outpatient services and operations, both internally within Premier Health and externally with Dayton Physicians Network and Wright State Physicians, to ensure we're capturing all cancer patients no matter what form of treatment they're having first," explains Alison Potts, MSN, RN, director of nursing. The goal is to implement a more standardized and consistent screening approach. Efforts also include a more robust patient packet that better communicates screening benefits.
Psychological, emotional, social, and/or spiritual concerns can interfere with a patient's ability to cope effectively with cancer, its physical symptoms, and treatment. Screening and identification of distressed patients, along with appropriate referral, may help improve levels of distress, anxiety, and depression.
"These improvements will help us better identify social, emotional, and physical barriers to having a successful cancer journey," Potts says.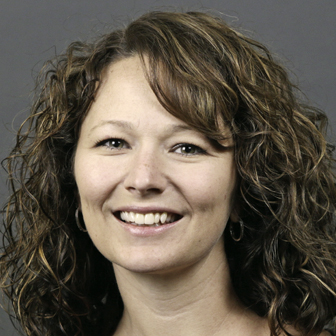 Alison Potts, MSN, RN