On Your Schedule
MyChart® direct scheduling is available across all Premier Health primary care physician offices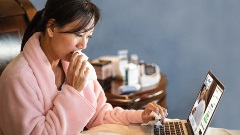 It's 2 a.m. You wake up with a throbbing head, body aches, and a throat that feels like your cat's scratching post. You need to see your primary care doctor, but you can't call to make an appointment for another six hours.
We've all been there. Fortunately, Premier Health has a better way. Since January, patients who have an established relationship with any Premier Health primary care or internal medicine provider can login to MyChart® via the web or use their MyChart® mobile application at any time to view their physician's schedule and select an appointment time that works best for them.
Convenient Online Scheduling
"Premier Health's ongoing mission is to deliver the most consumer-friendly health care experience possible, where patients can get the care they need when and where they want it," says Premier Physician Network Director of Access and Referral Management Ryan Muhlenkamp, MS, RN, FACHE. "MyChart® direct scheduling is a big step in that direction."
Ryan says the scheduling option has experienced "rapid organic growth" and he anticipates that growth to continue. He cites research showing eight out of 10 patients would schedule online if they could, and four out of 10 would consider switching providers just to have online access.
Early feedback from patients confirms its appeal, with one patient writing, "I logged into the MyChart® app from my bed and scheduled a 7:30 a.m. appointment with my physician. It was an amazing experience because I had the peace of mind knowing I could go back to sleep for a few hours and would be seen by my physician early that morning."
Efficient and Secure
Ryan says MyChart® scheduling is limited for now to primary care and internal medicine providers, but Premier Health plans to expand the feature to pediatrics, OB/GYN, and for some diagnostic procedures this year. Women can already use it to schedule their annual mammography screenings.
The scheduling feature has been around for five years in some Premier Health physician practices, and it has proven to be safe, reliable, and secure, says Julie Parker, Premier Health's director of Information Technology for Epic Ambulatory Systems.
"We're excited about its potential," Julie says. "This is about delivering health care more efficiently, so our patients can feel better faster and get back to their lives. That's what we're all about."
To sign up for a MyChart account, contact your physician's office or visit premierhealth.com/mychartsignup.