Excellence In Patient Care
Premier Health Receives First Magnet® Recognition as a Health Care System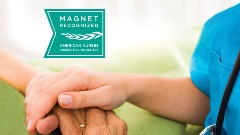 Premier Health hospitals are celebrating a milestone accomplishment: the health care system has earned its first Magnet® designation as an organization.
Magnet status awarded by the American Nurses Credentialing Center is recognized as professional nursing's highest honor. Research shows that Magnet-designated hospitals provide a safer environment with better outcomes for patients, such as fewer complications and injuries, lower mortality rates, and shorter stays.
Supporting and Empowering Nurses
"Premier Health is only the second health system in Ohio to achieve Magnet designation as a system, and has the only adult Magnet hospitals in the Dayton area," says Mike Maiberger, executive vice president and chief operating officer of Premier Health. "Achieving this highly selective honor is a huge point of pride for our organization and a testament to the hard work of our nursing teams and all who support them."
Magnet-designated hospitals are known for seeing the value in supporting staff and fostering collaborative work environments that enable nurses to develop fulfilling careers.
"We believe that empowering our nurses to be the best they can be is a crucial part of our mission to build healthier communities," says Peggy Mark, chief nursing officer for Premier Health. "The care we give our patients can only be as excellent as those we trust with delivering that care."
System-Wide Recognition
Magnet Recognition Program appraisers visited Atrium Medical Center in Middletown, Miami Valley Hospital in Dayton, Miami Valley Hospital North in Englewood, Miami Valley Hospital South in Centerville, and Upper Valley Medical Center in Troy during a weeklong site visit in November.
After touring 79 departments and units and meeting with 546 clinical nurses, along with many hospital leaders, physicians, essential partners, and community stakeholders, they praised Premier Health's systems and structures, community partnerships, interdisciplinary partnerships, physician-nurse partnerships, and nursing staff overall.
Commitment to Care
"Magnet designation is confirmation of our culture of excellence," says Mary Boosalis, president and CEO of Premier Health. "This recognition signifies that all Premier Health facilities stand equally committed to deliver the best patient care possible."
As part of Premier Health's first-ever system Magnet designation, Miami Valley Hospital has achieved its fourth Magnet designation since 2004. With its latest designation, the hospital joins an elite group of only 58 U.S. health care organizations – fewer than 1 percent of hospitals in the nation – to have earned four Magnet designations.
Atrium Medical Center and Upper Valley Medical Center join 30 other hospitals in Ohio with Magnet status and only 481 Magnet-designated facilities in the world.