Trusted Care
Samaritan Behavioral Health Celebrates 50 Years of Patient-Centered Service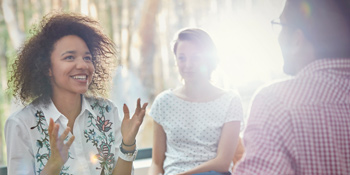 The secret behind the growth and successes at Samaritan Behavioral Health, Inc. (SBHI) over the past 50 years has been trust.
"Accomplishing the things SBHI has accomplished is not about the leader, it is about every single person in the organization. Our success is due to the fact that the people we serve trust us to take care of them. We learn from our patients' resilience," says Sue McGatha, who this fall retired from SBHI as president and CEO, after 33 years of service.
First in Montgomery County
Samaritan Behavioral Health originated inside Good Samaritan Hospital (GSH) in the late 1960s, shortly after federal legislation was passed that created community mental health centers. A federal grant awarded to GSH led to the development of the first community mental health center in Montgomery County.
In 2002, a separate not-for-profit corporation under the ownership of Samaritan Health Partners was created, and Samaritan Behavioral Health was born, Sue says. Through its services to children and adults, SBHI promotes a holistic approach to care. "We believe you have to address the physical needs of individuals, as well as their behavioral health needs. You cannot disconnect the body from the mind," she adds.
Meeting Community Needs
Whether providing counseling, psychiatric care, or case management, SBHI strives to improve access to behavioral health services and works closely with community partners, such as schools, public health departments, and Alcohol, Drug Addiction and Mental Health Services (ADAMHS) boards, to take services to the patients. It offers services in three counties and in various locations, from child care centers to more than 30 schools in Montgomery and Miami counties.
Samaritan Behavioral Health has adapted its offerings in recent years to meet community needs, including the sharp rise in substance abuse challenges with the opioid epidemic, says Beth Esposito, the new president and CEO of SBHI. She has worked in community mental health for 26 years, the past 10 with SBHI.
"Five years ago, we redefined ourselves from behavioral health only, to include physical health services," Beth says. Services also were quickly developed to help deal with the opioid epidemic, and the organization is adjusting again as more problems are being encountered with methamphetamine and cocaine.
Patient-Centered Care
"We are constantly ebbing and flowing our way of doing business based on what's going on," Beth says. "We are the best kept secret in town. We are highly focused on patient-centered service. We want our patients to get better."
The growth of SBHI has been "steady and remarkable," going from an $8 million operation in 2002 to $16 million today, Sue says. "It has been challenging and growth has been slow, but you just can't give up. You have to be persistent while at the same time fighting the stigma that still exists for mental health and addiction services."