The Legacy Lives On
Good Samaritan Hospital's 86-year History Lives on through Employees at Premier Health
Although Good Samaritan Hospital no longer has a physical location at Salem Avenue and Philadelphia Drive, its 86-year legacy of medical innovation and quality care in northwest Dayton lives on through the ongoing work of its employees – the vast majority of whom have moved into similar roles at other Premier Health facilities.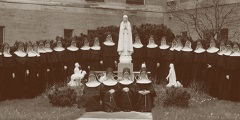 Good Samaritan was the first Ohio hospital designed to provide affordable health care to the middle class, says Sister Carol Bauer, the hospital's vice president for mission effectiveness.
Ninety years ago, a fund drive raised more than $1 million, and the hospital's first chief of staff donated the original four acres of the campus. The hospital opened May 12, 1932, under the Catholic Sisters of Charity, which ran Good Samaritan Hospital for decades.
A Series of Firsts
The hospital grew as needs changed and technology evolved. In 1954, during the post-World War II baby boom, the Madonna Pavilion was built. At the time it was the second-largest maternity unit in Ohio.
Sister Carol says Good Samaritan Hospital's many "firsts" included Dayton's first cardiac catheterization (1958), open-heart surgery (1958), cardiac care unit (1966), balloon angioplasty (1981), mitral valve repair (1987), and carotid artery stenting (2006).
In 2003, Good Samaritan and the city of Dayton launched what led to the Phoenix Project to revitalize nearby neighborhoods. Premier Health so far has donated $13 million toward the project, which has razed blighted properties, added affordable housing, and reduced crime. The health system also supports the resident education and training at the federally qualified Five Rivers Health Center and a homeless clinic nearby.
"It is very hard to see that incredible heritage, marked by so many firsts, disappear," Bauer says.
Emotional Ties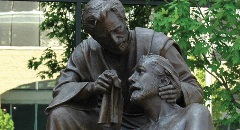 Patricia Kraft, former laboratory point of care, safety, and education coordinator, grew misty-eyed as she reflected on her 50 years with the hospital. She started there as a college student in 1968 and retired with the closure. A Good Sam baby herself, Kraft's two children were born there and her dad and sister died there. "There's a lot of history here, a lot of joy and sorrow."
Good Samaritan Hospital closed July 23, and while the decision was difficult, it also was necessary due to the duplication of its services at nearby Miami Valley Hospital and the trend toward shorter hospital stays and increasing outpatient care.
Still, "it was a hard decision emotionally, because Good Samaritan is so symbolic and has done so many wonderful things," says Premier Health President and CEO Mary Boosalis.
Premier Health made job offers to the approximately 1,400 Good Samaritan employees who expressed an interest in ongoing employment with the health system; the remainder retired or took jobs elsewhere.
Premier Health will be decommissioning and taking down the buildings at Salem Avenue and Philadelphia Drive, and has committed up to $10 million to support the redevelopment and reuse of the 13-acre site.
Looking Back, Moving Forward
Former Good Samaritan Hospital President Eloise Broner understands the closure is painful for people both inside and outside the hospital. "Over the weeks leading up to the closing, we saw many tears," Broner says. "But sometimes you need to feel the loss to move ahead to whatever the future may hold.
"I like to think the future is bright for the corner of Salem and Philadelphia," adds Broner, who now serves as chief of shared services at Premier Health.
Dan Schoulties, MD, came to Good Sam in 1978 and spent his entire career there, retiring as chief medical officer in 2016. For Dr. Schoulties, Good Sam's story is symbolized by the statue of the biblical Good Samaritan out front.
"That is a story of love, hope and healing," Dr. Schoulties says. "That's what Good Samaritan was all about and forever will be."