For Your Convenience
Multi-Specialty Health Care Facilities Offer A Variety of Services in One Location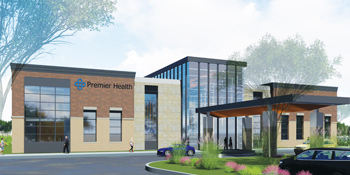 Premier Health is adding new facilities in Vandalia, Beavercreek, Liberty Township, and Monroe that will help make doctor visits and medical testing more convenient for patients. The new locations will be hubs for primary and specialty care physicians, such as orthopedics, cardiology, endocrinology, and rheumatology. The Monroe, Vandalia, and Beavercreek locations will include X-ray services; Vandalia and Beavercreek also will include CompuNet laboratory services; and the Beavercreek location will include obstetrics.
The Vandalia and Beavercreek facilities, each 45,000 square feet, are planned to open in October 2019. The Liberty Township and Monroe facilities, at 13,000 and 18,000 square feet respectively, opened in November and December of this year.
Benefits for Patients
Premier Health's goal is to "make health care more convenient, more streamlined, and more comprehensive, while at the same time easy to access," says Diane Pleiman, president of Premier Physician Network. "The new facilities meet that goal."
The new multi-specialty facilities will allow patients to see their family doctor, get a referral to a specialist, and get an X-ray or lab work done (in select offices), all at the same location. This allows not only for increased convenience for patients, but also quicker medical decision-making and treatment. As an added convenience, Premier Health patients will be able to check in for appointments electronically from their computer or mobile device.
Aleda Johnson, MD, family practice physician with Liberty Family Medicine, is happy about the benefits of the new hub facilities. "I am excited to be able to offer patients specialty services on site at the Liberty Township location," she says. "It's new, spacious, and convenient. It will help provide easier access to care for those patients who require more than one physician appointment."
Practices Staying Local
Existing primary and specialty care practices that move to the new facilities will not be taken far from their previous locations. They will continue to serve the same communities they served before relocating. New providers will also join to further expand the resources at each facility.
"Today's patients need health care that is as convenient as possible," Diane says. "These facilities are designed to provide multidisciplinary services in one place, for the perfect combination of accessibility and comprehensive care."
Premier Health Multi-Specialty Health Facilities
Liberty Township
6615 Cincinnati-Dayton Road
Monroe
35 Overbrook Dr.
Vandalia
600 Aviator Ct.
(opening fall 2019)
Beavercreek
near N. Fairfield Road
and Lakeview Dr.
(opening fall 2019)