Transforming Access to Care
As Health Care Continues to Forge New Paths, Premier Health is Leading The Way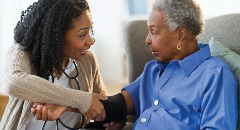 Health care is rapidly changing. Premier Health is launching a major effort to speed and simplify how patients access the care they need, while also controlling costs and maintaining top-notch quality.
"We're at a critical time in our history and in Southwest Ohio," says Premier Health President and CEO Mary Boosalis. "The times demand that we think more innovatively and move quickly."
Over the next three years, the health system will take steps to improve the ways in which patients receive care. Patients now have a wide array of care options available – many of them literally at their fingertips. Email doctor visits, home care, multi-specialty doctors' offices and urgent care centers to emergency rooms and hospitalizations – all are revolutionizing how people receive care, as well as their expectations around it.
Convenience is a Top Priority
The three-year plan outlines sweeping changes in the way Premier Health will provide care:
The system will expand access to services through technology, so patients can securely schedule appointments, request medication refills, pay bills, and view lab results from their personal electronic devices. Patients will be able to have email and tele-visits with doctors for a more convenient and time-saving way to take care of minor health issues.
Premier Physician Network doctors, formerly in separate practices, will join other physicians
and specialists in conveniently located offices. Premier Health also is further enhancing its recruiting practices to continue to attract top medical professionals.
Premier Health made the most of its resources to enhance the value of care and addressed Dayton's surplus of inpatient beds when it closed Good Samaritan Hospital. Ninety percent of the hospital's 1,600 employees were offered employment elsewhere in Premier Health; the others retired or chose other employment.
"We have to be more responsive to consumers' needs," says Paula Thompson, president of Fidelity Health Care, Premier Health's home care subsidiary. "It's about convenience: where they want it, when they want it, how they want it. People live with their mobile devices. They don't want to make a phone call and they don't want to wait – they want it now."
Efficient Care is Key
Premier Health is improving convenience and access while controlling costs by reducing duplication and making sure people get the appropriate level of care, says Craig Self, system vice president and chief strategy officer. That involves treating people in less expensive settings than emergency rooms, treating conditions before they require hospitalization, and following up with discharged hospital patients so they don't need to be readmitted.
Self says officials closed Good Samaritan Hospital in late July in part due to declining hospital admissions, shorter lengths of stay and the existence of another full-service hospital, Miami Valley Hospital, within five miles. The Good Samaritan campus also would have required costly infrastructure upgrades to address aging buildings.
Improved technology and treatments are driving more care into outpatient settings. As a result, "we don't need the arms race for inpatient beds anymore" between health care systems, Self says.
Good Sam's closure "really gave us the opportunity to think about how we can best redeploy resources," says Jennifer Hauler, DO, Premier Health's chief medical officer. For example, she says, it has allowed Premier Health to expand cardiology services in the northern part of the region.
Enhanced Accessibility
New multi-specialty doctors' offices will allow patients to see family doctors and specialists and also get X-rays and lab work at the same location. Dr. Hauler says the approach is convenient for patients and also speeds medical decision-making and treatment. Family doctors can refer patients to specialists at the same location.
"They're going to have the same excellent care they've always received, just in a different location," Dr. Hauler says.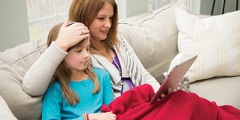 Premier Health also is positioning itself to face new competition from clinics in large pharmacy chains. It has opened urgent care centers in retail shopping centers in Vandalia, Englewood, Huber Heights, Miamisburg, Springboro, Troy, and Mason, and plans to open others in Centerville and Beavercreek later this year.
Meanwhile, Fidelity Health Care is growing, providing in-home care using visiting nurses, therapists and social workers, and remote monitoring of health indicators like weight and blood pressure.
"The cost of health care is continuing to skyrocket," Thompson says. "We need to find ways to manage chronic conditions in a way that's less costly but still has high quality and good results."
Premier Health is expanding its use of email "e-visits" between patients and their primary care doctors, and "virtual visits" connecting patients and doctors with computer telecommunications.
It is on track to conduct 3,000 e-visits and 900 virtual visits in 2018, says Diane Pleiman, president of the Premier Physician Network. These visits are only for a limited set of ailments, she says, and "If these physicians have any suspicions (of more serious illness), they're going to get you in for an in-person visit." The goal is to continue to expand non-traditional visit options to meet the evolving needs of patients, Pleiman adds.
Barbara Johnson, Premier Health's system vice president and chief human resources officer, says that while "health care is in the midst of unprecedented transformational change, providers really want to make a difference in the lives of patients and families."
Premier Health may be undergoing great change, but Boosalis says its dedication to quality health care and improving the region's overall health remains. "Our mission, vision and values have not changed."