Milestones: Spring 2021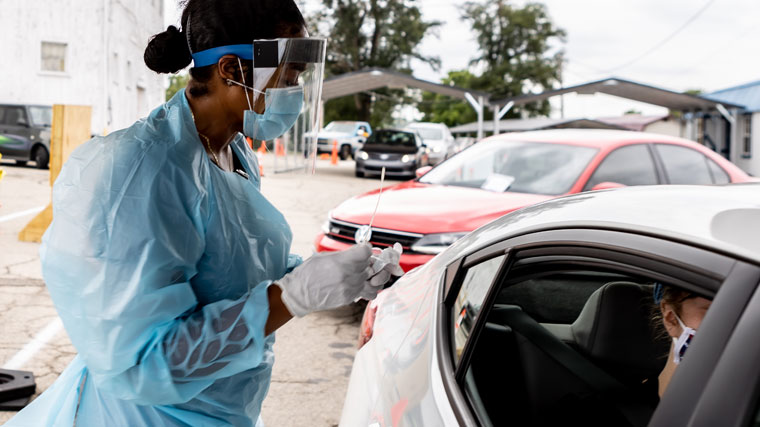 Premier Health is improving the health of the communities we serve by expanding access to care and maintaining high standards for the care we provide.
First in the World to Offer Next-Generation Kidney Stone and Prostate Treatment
Premier Health and Dayton Physicians Network are the first providers in the world to implement the MOSES 2.0 Pulse 120H holmium laser by Lumenis, a system designed for minimally invasive kidney stone removal and gold-standard enlarged prostate surgery. With MOSES 2.0, located at Miami Valley Hospital South, stone removal is precise, thorough, and fast. For patients with benign prostatic hyperplasia (BPH), the MOSES 2.0 procedure removes blockages to urine flow with no incisions and most patients can go home the same day, without a catheter. Learn more.
COVID-19 Testing Sites Open to All Patients
Premier Health and CompuNet Clinical Laboratories have expanded COVID testing locations and offer COVID-19 PCR and COVID-19 antigen testing without a doctor's order. Both tests are available to adults and minors (with guardian permission) and no appointment is necessary at the OnMain location, 1229 S. Main St. in Dayton, across from Miami Valley Hospital.
Learn more about testing sites and get general testing information.
Telehealth Options for Safe Care: E-Visits, Virtual Care, and Urgent Care Virtual Visits
To minimize the risk of exposure to COVID-19 for yourself and others, or if you are experiencing symptoms, Premier Health offers several options for safe and easy access to the care you need. Check with your provider's office to understand the most appropriate telemedicine visit type for you. For access to some of the options, you will need a MyChart account.
Sign up for a MyChart account.
Premier Health Extends Affiliation with MD Anderson Cancer Center
As an affiliate of MD Anderson Cancer Network®, a program of MD Anderson Cancer Center, Premier Health offers cancer treatment based on guidelines developed by one of the nation's leading cancer centers. This affiliation, renewed in January 2021 for three years, ensures that our patients' care will be both superior and close to home. Premier Health is the only certified member of MD Anderson Cancer Network® in Southwest Ohio.
Back to the Spring 2021 issue of Feel Good magazine.