CareFlight Ground Transportation

In addition to four helicopters, CareFlight service includes five mobile intensive care units (MICUs) for ground transport. The MICUs:

Are staffed with a certified flight nurse, critical care paramedic, and emergency medical technician
Are fully-equipped intensive care units
Are in service 24 hours a day
Cover a 75-mile radius from Miami Valley Hospital

The MICUs provide transportation from accident scenes and community hospitals to Miami Valley Hospital's Level 1 trauma center. MICUs are based at four locations: Miami Valley Hospital
Miami Valley Hospital South
Miami Valley Hospital North
Jamestown Emergency Center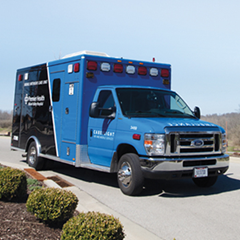 MICU Fleet

The CareFlight fleet of MICUs are Kenworth medium duty T-270 chassis vehicles equipped with upgraded safety features, including:

Air bags in the patient action area
LED (light emitting diode) lights mounted in the crew compartment, indicating turns and braking being made by the driver
Tracking devices for the communications center (as well as tracking in the secondary Med-Trans radio)
Tire pressure gauges to monitor low pressure, eliminating potential flat tires
Primary and secondary sirens
Exhaust filtering system
The MICUs have a gross weight rating of just over 25,000 pounds, and the 6.7 liter PX-7 Cummings engine delivers 280 horsepower.
Contact Us
If you or a loved one needs emergency or trauma care, our teams of specially trained doctors and nurses are here to help. At Premier Heath, we quickly assess your condition and provide the care and treatment you need.
You can access emergency services at the following locations: