Program Description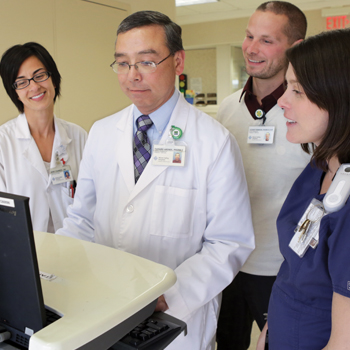 Program Code: 44082
National Matching Service Code: 241213
Start Date: end of June, exact date to be communicated post match
Number of Positions: 4
Staffing Requirement: every third weekend
Learning Experiences
Required Learning Experiences
Orientation (6 weeks)
Antimicrobial Stewardship (4 weeks)
Critical Care (4 weeks)
Internal Medicine (4 weeks)
Emergency Medicine (4 weeks)
Formulary Management (4 weeks)
Required Longitudinal Learning Experiences
Staffing (52 weeks)
Research (46 weeks)
Practice Management (46 weeks)
Elective Learning Experiences

Advanced Critical Care (4 weeks)
Advanced Emergency Medicine (4 weeks)
Advanced Hematology/Oncology (4 weeks)
Advanced Internal Medicine (4 weeks)
Cardiology (4 weeks)
Trauma Surgery (4 weeks)
Hematology/Oncology (4 weeks)
Neonatal ICU (4 weeks)
Neurocritical Care (4 weeks)
Neurology (4 weeks)
Perioperative Medicine (2 weeks)
Sterile Compounding (2 weeks)
Teaching Certificate (26 weeks, longitudinal)
Other elective learning experiences may be developed based on resident interest and preceptor availability.
Rotation selections will be guided by the Residency Program Director, and will ensure the resident achieves a broad range of experiences and exposure to various patient populations.
Other key experiences during residency will include the completion of a major project, delivery of at least two formal education lectures and precepting APPE students. The resident will also have the opportunity to attend the ASHP Midyear Clinical Meeting in addition to presenting their finalized project at the Ohio Pharmacy Residency Conference.
Education Opportunities
PGY1 residents will have the opportunity to participate in a Teaching Certificate Program through Cedarville University College of Pharmacy.