Geetha Kanakeswaran, MD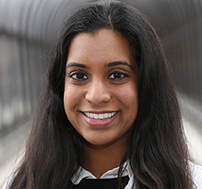 Geetha Kanakeswaran earned her Bachelor of Science degree in Neuroscience from UCLA (CA) in 2008, Master of Medical Science degree from Drexel University (PA) in 2011, and her Doctor of Medicine degree from St. George's University School of Medicine (Grenada) in 2015.
Dr. Kanakeswaran is a neurology resident. Prior to residency, she participated in ALS research at Drexel University. She served as a neuroscience and biochemistry peer tutor at the Department of Educational Services, Grenada, and a physiology, microanatomy, and neuroscience tutor at the Center for Academic Success, Drexel University.