IBD and Colorectal Cancer: What's the Link?
Find Your Perfect Match
Answer a few questions and we'll provide you with a list of primary care providers that best fit your needs.
Living with an inflamed colon can have its challenges. Dealing with cramping, diarrhea and fatigue gets real old. But did you know that the inflammatory bowel diseases (IBDs) of ulcerative colitis and Crohn's disease can also increase your risk of colorectal cancer over time? Now that you know, let's get to what you can do.
What are IBDs?
Doctors think IBDs occur when the immune system overreacts to normal bacteria in the digestive tract. IBD differs from irritable bowel syndrome (IBS), a disorder that affects muscle contractions in the colon.
The IBD ulcerative colitis causes inflammation and ulcers in the colon, the lower portion of the large intestine. Abdominal pain and discomfort, bleeding from the rectum and the need to empty your colon frequently are common symptoms.
Crohn's disease, another IBD, can cause inflammation or ulcers in any area of the large or small intestine. Symptoms are similar to colitis and can be mild to severe.
The good news is that more than 90 percent of people with IBD never get colorectal cancer. Still, your risk is on the rise if you have:
IBD for more than eight years, affecting more than a third of your colon
Increasing inflammation over time and inflammation in the upper portion of your colon
An inflammatory condition of the bile ducts called primary sclerosis cholangitis (PSC)
A family history of colon or rectal cancer
Younger people who get IBD generally don't develop cancer from the disease while they are young. Their risk of colorectal cancer increases somewhat when they're older.
Manage Your IBD, Manage Your Colorectal Cancer Risk
"To lower your risk of colorectal cancer, the main thing is to control the IBD and inflammation," says Fayez Abboud, MD, gastroenterologist with Premier Gastroenterology Specialists. He explains that inflamed tissue over time can irritate cells and change them into abnormal cells called dysplasia. And dysplasia cells can, in turn, change into cancer cells.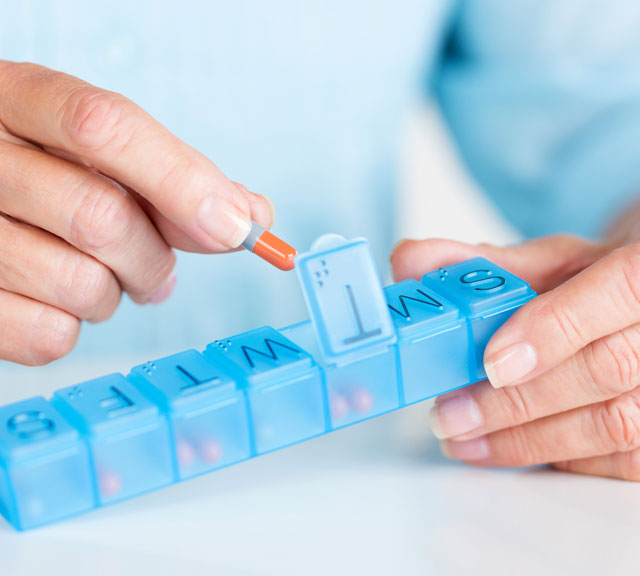 Dr. Abboud stresses the importance of taking the medicine your doctor prescribes to reduce symptoms and inflammation.
"There's a wide range of severity with these diseases," Dr. Abboud says. More serious symptoms may require modifying your immune system with biologics, such as Humira® or Remicaid®. Some people may require steroids to temporarily control inflammation.
Dr. Abboud says if you are in remission, reducing inflammation is likely to lower your risk of developing precancerous changes or cancer in your colon or rectum.
A colonoscopy is critically important for detecting dysplasia early, as well as removing polyps. These fleshy bumps can be the precursor to cancer.
The main thing is to control the IBD and inflammation
If you have had IBD more than eight years and a third or more of your colon is involved, general guidelines suggest you should have a colonoscopy every one to two years. If your IBD is more recent or not as severe, your doctor may recommend a colonoscopy less frequently.
Studies Show Progress for People with IBD
The Crohn's & Colitis Foundation of America reports positive news from recent studies on the link between IBD and colorectal cancer:
Evidence shows people with IBD have a lower risk of developing colon cancer when they undergo regular colonoscopies to remove precancerous tissue.
Colon cancers occur less frequently in people with IBD than previous reports have suggested. This may be due to better IBD medicines, regular colonoscopies or factors not yet understood.
A sharper picture with today's scopes and newer procedure methods provide better views of the colon's surface. So doctors can successfully remove small, precancerous polyps and tissue.
To keep improving your odds, see your doctor once a year for a checkup, even if you feel your IBD is under control.
Find Your Perfect Match
Answer a few questions and we'll provide you with a list of primary care providers that best fit your needs.
Source: Fayez Abboud, MD, Premier Gastroenterology Specialists; American Cancer Society; Crohn's & Colitis Foundation of America; Womenshealth.gov