A New Lease On Life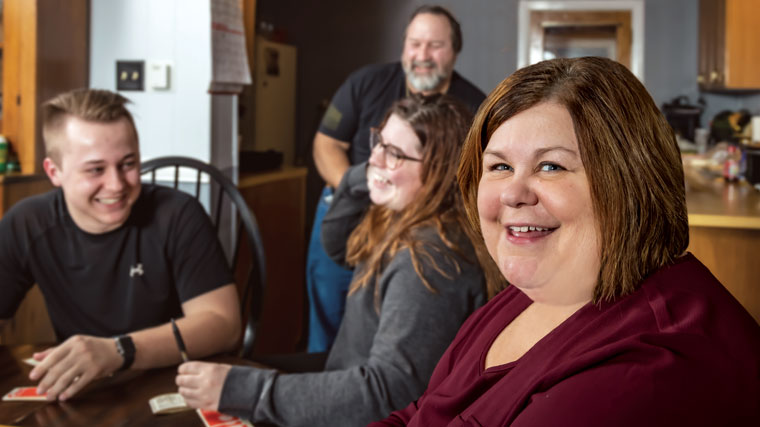 Several years after giving birth to two sons, Nicki Ingle's menstrual periods had become increasingly painful. She turned to Katherine Bachman, MD, her gynecologist at Premier Women's Center in Piqua, for help.
"When it gets to the point where it is affecting four, five, six days of your month, that is ridiculous. It was a very painful event," Ingle says.
Diagnosed with adenomyosis, a condition where the lining of the uterus invades the muscles of the uterus and makes periods painful, Ingle was taking an increased amount of over-the-counter medications to try to ease the pain. She and Dr. Bachman explored treatment options including prescription medication, injections, or a hysterectomy. To narrow the choices, Ingle was referred for an ultrasound, after which she met with Dr. Bachman's partner, Larry Holland, DO.
Choosing the Best Treatment
Ingle and Dr. Holland discussed her history and test results and decided to proceed with surgical intervention, a Robotic Total Laparoscopic Hysterectomy with removal of the fallopian tubes. "I felt the robotic approach would be best for her," says Dr. Holland. "I explained that I could perform her procedure through three small incisions, all about the diameter of her little finger."
Ingle says she loves her relationship with Dr. Bachman but was made to feel equally welcome by Dr. Holland. "One thing I really liked was he sat down next to me, not across from me. He showed me visuals so I could understand what was going on," she says.
The surgery was performed at Upper Valley Medical Center (UVMC) and has made a huge difference in Ingle's daily life. Ingle says she was very impressed by the staff at UVMC, including the nurses in the operating room and the nurses who took care of her before and after surgery. "I always feel like I am the only person they have to take care of," she says.
Robotic Surgery Benefits
Ingle was off work for a week post-surgery, and back to her "normal being in two weeks or less, for the most part."
"The hysterectomy, the way he did it, was just unbelievable. I had very little pain, very little pain medicine. The recovery was easier than one month's period, so it was a piece of cake," Nikki says.
Dr. Holland says that robotic surgery can offer many benefits to patients over an open procedure, such as smaller incisions with less chance for infection; shorter hospital stays; less pain; a faster return to normal activities; less scarring; and minimal blood loss. Plus, it offers surgeons greater visualization, enhanced dexterity, and greater precision during a procedure, he says.
Dr. Holland says that the cooperation with colleague Dr. Bachman is not unusual for the Women's Center. "We are all practicing OB/GYNs; all have areas of specialty," he says. "You know your patient's needs. There is no hesitation to refer to someone in the group to achieve what is best for the patient."
Back to the Spring 2021 issue of Feel Good magazine.
Source: Katherine Bachman, MD, Premier Women's Center; Larry Holland, DO, Premier Women's Center