Natasha's Story: 'I Didn't Want To Believe It'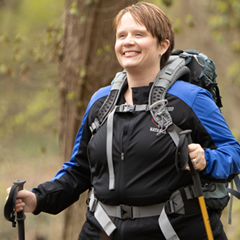 Natasha Luster is no couch potato. This 37-year-old wife and mother spends much of her free time hiking, biking, working out with a trainer, and camping and fishing with her husband and son. Last summer she went skydiving for the first time. A couple days later, on a sunny Saturday morning, she got up early for her usual bootcamp-style workout. Later that same day she wasn't feeling her usual energetic self. "I just felt uneasy, like something wasn't right," she remembers.
When the pain in her chest got worse, Natasha told her husband to get her to the Emergency Department at Miami Valley Hospital. As a nurse manager at the hospital for more than a decade, Natasha was pretty sure her chest pain was signaling a heart attack. "I didn't want to believe it," she says. But the cardiac lab results confirmed her fears.
If there is comfort in suffering a heart attack, it comes with knowing you're in excellent hands. "Even though I was super scared, I knew I was in the best hands possible," Natasha says. The staff in the Emergency Department not only comforted Natasha, "they carefully and calmly explained everything to my family and friends who had gathered there."
The cardiac staff who placed a stent in Natasha's left anterior descending artery (also known as the widow maker), were equally as professional. And with cardiac surgeon Syed Zaman, MD, on standby in case open heart surgery would be needed, Natasha says she felt confident that she'd be OK. "I know him and his staff; they're the best," she says.
Fortunately the stent has done its job, and eight months later, Natasha is back to being a busy wife, mom, and nurse manager. She and a friend are training to hike the Grand Canyon. But her heart attack has taught her to listen to her body. "I learned to listen to what my body is trying to tell me, and to get preventive care when I need it," she explains. Natasha also has begun to meditate twice a week, and to put herself first more often. "I've learned that it's OK to say 'no' sometimes."
When sharing her story with other women, Natasha reminds them that one in three women suffers a heart attack during their lifetimes. "Your mother, sister, girlfriends…when you think about all the women you know, one in three is a scary statistic," she says.
Contact Us
Every moment of your life depends on a strong, healthy heart. The Premier Health cardiology and vascular services team is here to help you, each beat of the way, with prevention, diagnostic, treatment, and rehabilitation services in our hospitals, outpatient centers, and medical offices across Southwest Ohio.