George's Story: Enjoy Every Day
After surviving a heart attack, George Oberle cherishes life and family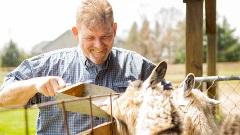 George Oberle savors every day of his rich, full life as a "hobby farmer" on his two-and-a-half-acre farm in Lebanon. He and his son, Justin, take care of the farm and its inhabitants – two miniature goats, three horses, and a flock of chickens.
George doesn't take a moment for granted since nearly losing his life last fall, only a year after retiring. Early in the afternoon of September 22, 2018, he felt a tingling in his arm, but he thought little of it. He followed his usual routine, going out to the barn with his son, Justin, and his grandson, Wyatt, to feed the animals.
"My arm feels funny," he told himself before falling asleep in his chair. He woke up at 2 a.m. with excruciating pain in his arm, neck, and the left side of his jaw. When his wife, Connie, insisted on calling Turtlecreek EMS, George had one condition: "Take me to Atrium."
Comprehensive Cardiac Care
George knew of Atrium Medical Center's reputation as "a really good cardiac hospital." Atrium is a Level III Trauma Center and also has received certification as a chest pain center from the American College of Cardiology Accreditation Services. Atrium's wide range of cardiac services – emergency care, cardiac catheterization, bypass surgery, and cardiac rehabilitation – also proved a blessing to the family, eliminating the necessity of moving to another facility.
"They really saved me," George says. A procedure in the cardiac catheterization lab revealed a 90-percent blockage in his mid-left coronary artery. A stent procedure was performed that unblocked the artery, leaving minimal damage to George's heart and preventing further impact. George says that his cardiologist, Gary Brown, MD, with Middletown Cardiology Associates carefully explained each step of the procedure. "He has a bedside manner that's just wonderful. He talks to you like he has known you forever."
Dr. Brown says it's rare for small communities to have such a broad spectrum of cardiac services. "It's unique," he says. "If you have a certified chest pain center here, it's just the same standards as in Chicago or New York."
The family is grateful to have such a sophisticated chest pain center so close to home, especially since they are the primary caregivers for their son Justin, who has learning disabilities. "The nurses were topnotch, and they watched over me 24/7," George says. "That was very reassuring to Connie."
The Oberles are doubly thankful to Atrium since Connie underwent an ablation there after experiencing atrial fibrillation during the stress of her husband's illness. George couldn't bear the thought of anything happening to his high school sweetheart, the girl with whom he fell in love at first sight when she moved six doors down from his family. "We're a team," George says.
Rehabilitation Boosts Recovery
At first, George hated the prospect of rehab, but decided to follow his doctor's advice. "People recover twice as quickly with cardiac rehabilitation," Dr. Brown says. "If a problem recurs, it will be detected quickly."
George's attitude changed when he met the rehabilitation staff. "They were super friendly and nice, and they talked to you through the whole procedure," he says. "By the time I ended my therapy, I was doing all my normal stuff. I feel wonderful now."
Cardiac rehab nurse Denise Goodlett says the program offers a full range of services, including blood pressure checks, supervised exercise, and classes on diet and smoking cessation. "It's a really rewarding place to work," she says. Sometimes patients stay long after their own sessions to encourage each other and to talk. "George is one of the patients who is so friendly and always supporting other patients," Denise says.
George has a simple piece of advice for others experiencing heart attack symptoms: "Get yourself to the hospital as quick as you can. And if you have any trouble whatsoever with your heart, go to Atrium."
"I have a brighter outlook on life," George says. "I enjoy every day. People take life in this world for granted, but it's a wonderful place."
Contact Us
Every moment of your life depends on a strong, healthy heart. The Premier Health cardiology and vascular services team is here to help you, each beat of the way, with prevention, diagnostic, treatment, and rehabilitation services in our hospitals, outpatient centers, and medical offices across Southwest Ohio.