The Dietetic Internship Program
Program Description with a 100% RDN Exam Pass Rate!
The Dietetic Internship Program and Miami Valley Hospital history dates back to 1928, when the first graduates completed the program. Currently, the program is growing to enhance opportunities in partnership with the entire Premier Health Network and the University of Dayton.
Program Description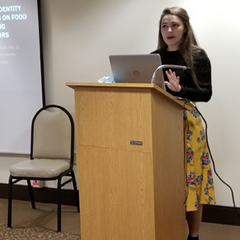 The Premier Health Dietetic Internship accepts interns annually. The program is a challenging 17 month internship run concurrent with the University of Dayton Master's program, beginning in mid-June and ending in mid-December the following year. The program is currently granted accreditation by the Accreditation Council for Education in Nutrition and Dietetics (ACEND), a specialized accrediting body recognized by the U.S. Department of Education.
Upon successful completion of the full-time internship program, you are eligible. graduates are eligible to apply for active membership in the Academy and to take the registration examination for dietitians. Premier Health offers a program that prepares interns for entry-level positions as Registered Dietitian Nutritionists. If you plan to work, we suggest it is flexible and under 10h/week. Both Premier Health and University of Dayton have work options for you to explore.
The Premier Dietetic Internship program is divided into two segments. Part I provides unique dietetic experiences in food service management, clinical, and community nutrition. Part II provides advanced level experiences including quality management, staff responsibility, elective experiences, and research which allows individualization of the program to fulfill your interests. All rotations are arranged by the internship director to be more time efficient for you. In order for you to fully engage in the internship, prior learning credit is not accepted.
Dietetic Internship Graduation Requirements
In order to graduate from the internship program and receive a Verification Statement, interns must satisfactorily complete all rotations, assignments, projects, and have earned a Master's Degree in Dietetics and Nutrition from the University of Dayton.