Careers in Nutrition and Dietetics
Employment Opportunities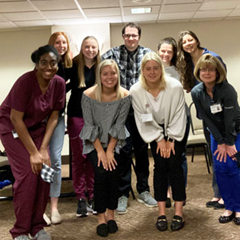 Registered dietitian nutritionists work in a wide variety of employment settings, including health care, business and industry, community/public health, education, research, government agencies and private practice. The Premier Health Dietetic Internship offers many of these as rotations!
Many work environments, particularly those in medical and health-care settings, require that an individual be credentialed as an RDN. RDNs work in:
Hospitals, HMO's or other health-care facilities, educating patients about nutrition and administering medical nutrition therapy as part of the health-care team. They may also manage the foodservice operations in these settings, as well as in schools, day-care centers and correctional facilities, over-seeing everything from food purchasing and preparation to managing staff.
Sports nutrition and corporate wellness programs, educating clients about the connection between food, fitness and health.
Food and nutrition-related business and industries, working in communications, consumer affairs, public relations, marketing, product development or consulting with chefs in restaurants and culinary schools.
Private practice, working under contract with healthcare or food companies, or in their own business. RDNs may provide services to foodservice or restaurant managers, food vendors and distributors or athletes, nursing home residents or company employees.
Community and public health settings, teaching, monitoring and advising the public and helping improve their quality of life through healthy eating habits.
Universities and medical centers, teaching physician's assistants, nurses, dietetics students, dentists and others the sophisticated science of foods and nutrition.
Research areas in food and pharmaceutical companies, universities and hospitals directing or conducting experiments to answer critical nutrition questions and find alternative foods or nutrition recommendations for the public.
Salaries and Job Outlook
According to the Academy's 2021 Dietetics Compensation and Benefits survey, the median full-time salary of all RDNs equates to $70,000 per year. As with any profession, salaries and fees vary by region of the country, employment settings, scope of responsibility and supply of RDNs. Salaries increase with years of experience and RDNs, in management and business, earn incomes above $90,000.
According to the US Bureau of Labor Statistics, employment of dietitians is expected to grow 8% between 2019-2029, much faster than average for all occupations, because of the increased emphasis on the role of food and nutrition in preventing and treating diseases, a growing and aging population and public interest in nutrition.
Need More Information?
For other career guidance information, contact Academy's Accreditation and Education Programs Team, Academy of Nutrition and Dietetics
Accreditation and Education Programs Team
120 South Riverside Plaza, Suite 2190
Chicago, Illinois 60606-6995
Phone: (800) 877-1600(800) 877-1600, ext. 5400
Fax: (312) 899-4817
E-mail: education@eatright.org