Dietetic Internship Program Application Processing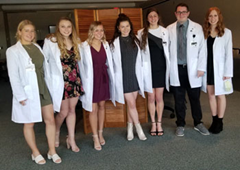 PH selection committee reviews and ranks applicants accepted by UD on the basis of their application packet. Interviews are not conducted.
No committee member shall use discriminatory practices in assignment, acceptance and evaluation of any Intern. Applicants shall have equal opportunity with respect to race, color, creed, religion, national origin, gender, age, disability, and marital status.

Interns accepted into the Premier Health Dietetic Internship will be required to:
Remit $2,000 internship fee ($1,000 nonrefundable upon acceptance into the program + $1,000 nonrefundable due the following December)
Provide proof of immunization (showing completed MMR, Hepatitis B, Tdap, Varicella, flu and COVID vaccines or granted exemption request).
Provide proof of health insurance coverage (health insurance coverage for dietetic interns is not available through Premier Health).
Agree to a background check completed by University of Dayton at no cost to intern.
Complete a drug screen at a facility of hospital's choice (in Dayton, Ohio) at no cost to intern.
Content Updated: July 2023