Dietetic Internship Program Application Processing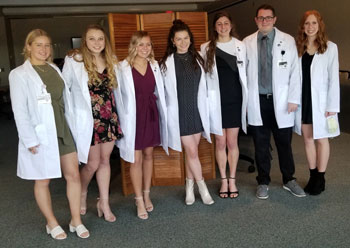 PH selection committee reviews and ranks applicants accepted by UD on the basis of their application packet. Interviews are not conducted.
Students must have a bachelor's degree from a US regionally accredited college or university, or a foreign equivalent and be accepted into the University of Dayton Master's Program.
Course work must meet the current academic requirements of the Accreditation Council for Education in Nutrition and Dietetics (ACEND).
Selection of interns for appointment to the program is based on scholastic performance; honors and extracurricular activities; demonstrated leadership; paid and volunteer work experience; potential for successful completion of program; letters of reference; and a personal statement.
An overall grade point average of at least 3.0 (on a 4.0 scale) is required. A DPD GPA of at least 3.0 is required.
Prior to admission to the program, a final transcript and the ACEND form for Verification of Completion of ACEND-accredited Didactic Program in Dietetics for Membership and Eligibility for the Registration Examination for Dietitians must be submitted.
No committee member shall use discriminatory practices in assignment, acceptance and evaluation of any Intern. Applicants shall have equal opportunity with respect to race, color, creed, religion, national origin, gender, age, disability, and marital status.

Interns accepted into the Premier Health Dietetic Internship will be required to:
Remit $2,000 internship fee ($1,000 nonrefundable upon acceptance into the program in Nov/Dec + $1,000 nonrefundable due the following September)
Provide proof of immunization (showing completed MMR, Hepatitis B, Tdap and chicken pox vaccinations).
Provide proof of health insurance coverage (health insurance coverage for dietetic interns is not available through Premier Health).
Agree to a background check completed by University of Dayton at no cost to intern.
Complete a drug screen at a facility of hospital's choice (in Dayton, Ohio) at no cost to intern.
Flu Shot (provided by Premier Health at no cost to intern).
Complete a TB test (provided by Premier Health at no cost to intern).
Content Updated: July 2021