Dietetic Internship Program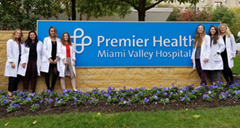 Thank you for your interest in the Premier Health Dietetic Internship! We understand your goals of optimal experiences, shorter time, and reasonable costs and believe that we can exceed your expectations as you prepare for your future! We can individualize your path with unique rotations for your personal needs and professional development.
To prepare students to sit for the national registration examination as required in 2024, we have partnered with the University of Dayton to offer a combined Master's degree in Dietetics and Nutrition (MDN) (or certificate for those with master's degrees) and Dietetic Internship program over an 18 month period for reasonable cost. This partnership facilitates holistic learning and development of students through courses that complement the individualized rotations unique to an 1,100 bed, Level 1 Trauma Center and Teaching Hospital with an expansive system, small hospital, and community experience.
We partner with the University of Dayton to offer a Master's Degree in Dietetics and Nutrition as well as a Dietetic Internship Program. This combination will better prepare students for the future of dietetics as we near 2024 when a master's degree will be required to take the registration exam.
We accept rolling applications through DICAS beginning in the fall, from students who are in their last year of their DPD program or have graduated from any accredited dietetics program and have or will have a Verification Statement. Our interns must also be accepted into the University of Dayton Master's Degree Program in Dietetics and Nutrition. Applicants apply through DICAS with a brief application in the University of Dayton graduate application portal. Eligible applicants who have earned a master's degree may pursue the Advanced Dietetics and Nutrition graduate certificate (contact the UD program director for more information). Fall admission provides the benefits of eligibility for graduate assistant positions, no D&D fees, early coursework options, and early notification for planning for the online UD classes beginning in May with in person classes in August. Applications will be reviewed Nov 1 and Jan 15. Any remaining positions will enter the DICAS/D&DDigital match in February.
In addition to nutrition-related work experience and a desire to engage in experiential learning, our ideal applicant exhibits compassion, respect, and integrity towards themselves and others. As a partnered program, we are committed to upholding an inclusive and diverse environment where differences are welcomed and celebrated, encouraging every intern to voice their ideas and empowered to make evidence-based decisions in collaboration.
Premier Health Dietetic Internship Open House
Date: Wednesday, September 13, 2023 and Wednesday, January 24, 2024
Time: 3:30-4:45 p.m.
Virtual and In Person options; please contact Karyn Catrine for virtual link or RSVP to in person session.
Directors:
Karyn Catrine, MS, RDN, LD, Premier Health Dietetic Internship Program Director (kscatrine@premierhealth.com)
Jennifer Dalton, DCN, RDN, LD, University of Dayton Master's Dietetics and Nutrition (jdalton1@udayton.edu)
The Premier Health Dietetic Internship is accredited by ACEND.
The Accreditation Council for Education in Nutrition and Dietetics can be contacted by:
Email: ACEND@eatright.org
Phone: 800/877-1600, ext. 5400
Mail: 120 South Riverside Plaza
Suite 2190, Chicago, IL 60606-6995
The program is based at:
Miami Valley Hospital, Nutrition Services, 1 Wyoming St, Dayton, OH 45409 .